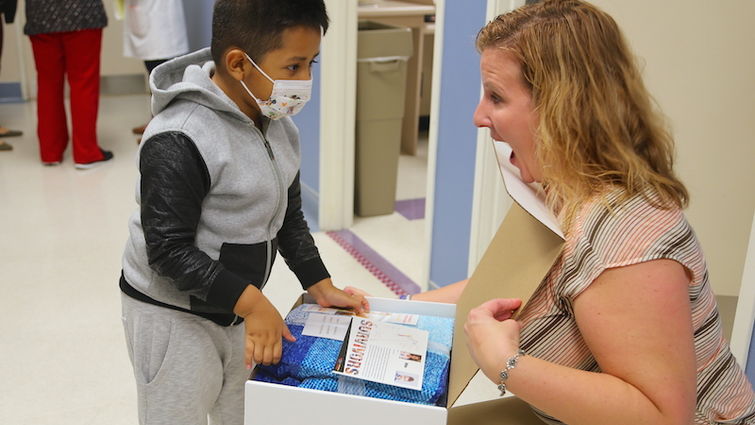 Despite the heat, kids receiving treatment at Loma Linda University Children's Hospital hematology/oncology clinic still have a need for blankets in the summer, and they won't be falling short anytime soon.
Members from the Orange County Inland Empire Chapter of the Leukemia & Lymphoma Society (LLS) stopped by the clinic Tuesday, June 28 to brighten the kids' day delivering 60 blankets.
The patients find comfort in the blankets and use them while receiving treatment.
Aiden Garcia, 5, was the first patient at the LLUCH clinic to receive a blanket from the Leukemia & Lymphoma Society and Subaru San Bernardino. His family—who travels from their home in Lone Pine (roughly 200 miles from San Bernardino) so their son can get the care he needs—was very appreciative of the gift.
The blanket donation is part of the LLS of Orange County Inland Empire Chapter and Subaru of San Bernardino's participation in the national Subaru Loves Promise Campaign. Through the campaign, LLS and Subaru intend to spread hope, love and warmth to cancer patients through small gestures by donating over 30,000 blankets across the country.
The blankets are enclosed in a box that also contains a message of hope written by Subaru customers. A brochure for parents that offers support and resources is also included in the gift.
The LLUCH hematology/oncology clinic—which cares for patients with childhood cancers and blood disorders such as aplastic anemia—is the only clinic or hospital in Orange County and the Inland Empire that has received such a donation from the campaign.