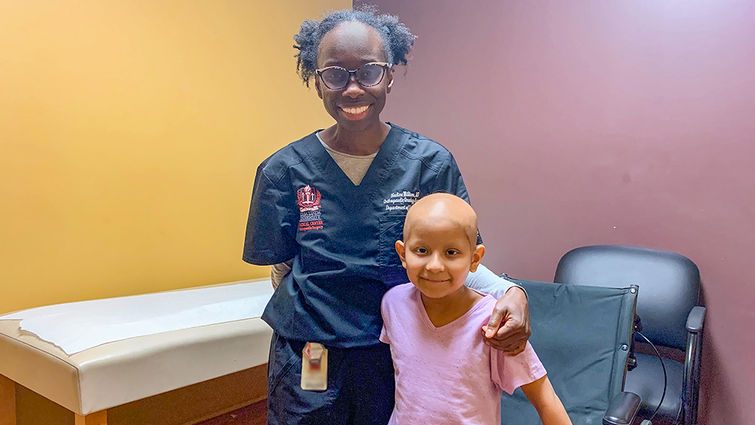 After being diagnosed with cancer, 7-year-old Sunem Sandoval faced two terrible options: the amputation of her leg or the placement of a risky prosthetic implant requiring a multitude of surgical procedures. The orthopaedic department at Loma Linda University Children's Hospital intervened, deciding those options weren't good enough.
On May 17, 2021, Sunem came to the Emergency Department with ongoing hip and leg pain that had plagued her for several weeks after a fall at school. After her initial examination and X-rays, doctors speculated this pain was much more than minor pediatric hip issues. She was admitted into the oncology unit of Children's Hospital. 
Additional testing and a biopsy concluded Sunem was positive for a high-grade osteosarcoma. Osteosarcoma is the most common type of cancer that starts in the bones, usually long bones like legs and arms. This diagnosis was shocking for Sunem's family.
Nadine Williams, MD, an orthopedic surgeon specializing in oncology at Children's Hospital, became Sunem's treating oncology surgeon. Williams says she has never had a patient this young with this cancer, which predominately affects the 10 to 20-year-old age group.
"It's very rare," she said. "When they're young, it unfortunately makes the prognosis worse. But Sunem was a trooper throughout the entire ordeal."
Sunem's treatment plan involved chemotherapy, surgery, and chemotherapy again. Chemotherapy was hard on Sunem — she began losing a lot of weight and throwing up every day, says her mom, Claudia Gonzales.
Sunem's cancer involved approximately 16 cm of her femur — the tumor and the entire affected surrounding tissue needed to be surgically removed.
In the past, Williams said there were two surgical options available, either amputating the patient's leg entirely or placing a prosthetic implant that would need an estimated 16 revision surgeries to allow the patient's leg to grow properly. This implant could have been a nightmare for Sunem, being so young, facing surgeries for another six to eight years, and still risking the potential of limited growth and possible infection.
With neither of these options being acceptable, Williams and her team pursued a third option — a custom prosthetic implant with cutting-edge technology that could grow Sunem's leg while the rest of her body grew, minimizing both additional surgical interventions and the risk of infection. Inside the implant is an internal gearbox and an external magnet. When a specially-created magnetic device is put into contact with the magnet inside the implant, the gear box turns on and the leg slowly extends.
"That's the special thing about this implant," Williams says. "She can come to clinic and we can slowly lengthen her leg without pain and without taking her to surgery."
However, getting this prosthetic implant was no easy task. Williams says they had originally hoped to perform Sunem's surgery in August when her first round of chemotherapy was finished. The implant is created by a company in the U.K. and is not fully FDA licensed in the U.S. While the company has been working on getting more of their pediatric implants into the U.S., the process has been slowed by the ongoing pandemic.
Gonzales says she felt the weeks go by with no update on the status of the implant for Sunem. "I knew it was a difficult process and was coming from far away, so I just put it in God's hands," she says.
Children's Hospital's orthopaedic department wrote the FDA to get special permissions called "compassionate use" for the implant, as well as Institutional Review Board approval. In addition to that hurdle, there was the issue of cost — with the implant being approximately $67,000. The department worked to secure funding through the patient's insurance company. Finally, in the first week of November 2021, Sunem had a successful surgery removing the sarcoma and implanting the new prosthesis.
Sunem is doing well, recently celebrating her 8th birthday. According to Gonzales, Sunem hasn't had pain since the surgery. She will need physical therapy, but will eventually be able to walk without assistance.
Williams says Sunem will be her patient for the next five to ten years. "That's one of the things I like about this field — you get to develop lifelong relationships with your patients and see them grow."
Gonzales is grateful for her daughter's good recovery and for the team at Children's Hospital. "Everyone took really good care of her, and they were really concerned to make sure she didn't feel scared," Gonzales says.
Williams is incredibly thankful for her team. "I think the strength of the team's approach to cancer care is that everyone brings something different, something special," she says. "In the past, Sunem would have gotten an amputation or a less than ideal implant. But because so many knowledgeable, committed people were involved with getting her the best treatment she needed, I think she will have a great outcome. It's the orthopaedic department's priority to coordinate and make every effort to provide the very best care possible for our patients."