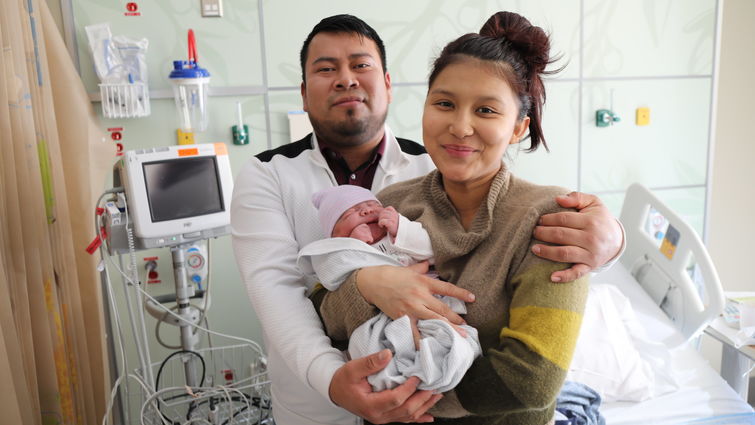 Loma Linda University Children's Hospital and Loma Linda University Medical Center – Murrieta were named to Newsweek's 2022 list of America's Best Maternity Hospitals, in partnership with Statista Inc., recognizing the facilities for excelling in providing care to mothers, newborns, and their families.
According to Newsweek, the third annual edition of the award list is based on an updated methodology. Hospitals were assessed through a nationwide survey of 10,000 medical professionals, medical key performance indicators, and patient survey results.
Of the thousands of hospitals comprehensively evaluated, Murrieta and Children's ranked in the top 5.8% — two of only 350 recognized. Additionally, both hospitals were ranked alongside 161 "five ribbon performance" hospitals, meaning the cumulative total of their key performance indicators, reputation scores, and patient scores were higher.
Jonathan Jean-Marie, senior vice president and administrator of Loma Linda University Medical Center – Murrieta, expressed excitement and gratitude.
"Murrieta is honored to receive this recognition, highlighting the highest quality care our physicians, nurses, and staff provide to moms and babies every day," Jean-Marie says. "Their commitment to providing excellent healthcare has not gone unnoticed."
Murrieta's birthing center is a state-of-the-art facility, with hands-on physicians and nurses providing support for all medical needs before, during, and after a baby's arrival. It's equipped with a new OB Emergency Department providing 24/7 care to pregnant moms in the community and a new Level II NICU offering treatment for babies in need of special care.
Peter Baker, senior vice president and administrator of Children's Hospital says they are honored to receive this recognition for the second year in a row.
"It is a true testament to our physicians and staff, especially given the unprecedented challenges faced over the past two years," Baker says. "Our multi-disciplinary teams continue to show their incredible commitment to their patients and their profession."
Children's Hospital provides quality and compassionate maternity care in the San Manuel Maternity Pavilion, which opened in August 2021. Delivering more than 3,000 babies each year, Children's Hospital provides every aspect of labor and delivery care. It is well equipped for both low-risk and high-risk births with redesigned operating rooms, including special C-section rooms and a Level IV NICU. This is Children's Hospital's second time receiving this recognition.
The full list of recipients is available online and soon at newsstands nationwide.
Visit us online for more information on maternity care services at the Children's or Murrieta hospitals.