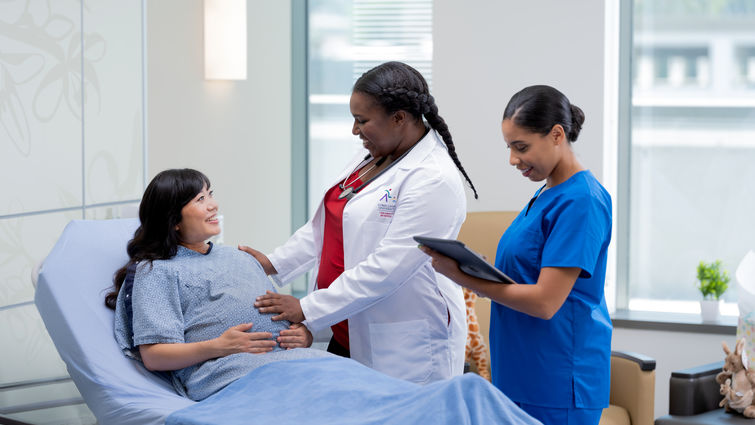 Loma Linda University Medical Center – Murrieta and Loma Linda University Children's Hospital have been named to U.S. News & World Report's 2021-22 "Best Hospitals for Maternity" list, highlighting their national ranking with low rates of newborn complications, early deliveries, and C-section rates.
Jennifer Ross, director of perinatal services for Loma Linda University Medical Center – Murrieta, said their team is honored to be acknowledged as one of the best maternity care hospitals in the country.
"We have talented and dedicated staff who enjoy serving our growing community every day and will continue to ensure our patients receive the best possible care and outcomes," Ross said.
Courtney Martin, medical director of quality improvement for Loma Linda University Children's Hospital, said the hospital's maternity services provides a wide array of maternity care.
"Although we are typically known for high-risk pregnancy care and Level 4 maternity designation, it is important and an honor to be recognized for our low-risk maternity care as well," Martin said. "We provide the full scope of compassionate, top-quality maternity care for all patients, no matter their needs."
Out of 2,700 hospitals nationwide evaluated on their maternity services, Murrieta and Children's Hospital were two out of only 237 hospitals that earned recognition in early December on their high performance.
With U.S. News & World Report's first release of a "Best Hospitals for Maternity" report, they stated that after more than 30 years of evaluating the best health systems in the United States, they hope this inaugural edition will help expecting families make well-informed decisions for their healthcare.
Focusing on quality in their evaluation, U.S. News & World Report examined each hospital's data on uncomplicated pregnancies — not high-risk pregnancies — and five different factors:
Scheduled early deliveries
C-section rates in low-risk women
Newborn complications
Rate of exclusive breast milk feeding
Option for vaginal births after cesarean
Participating hospital profiles also included various relevant information on services and amenities, such as private rooms, valet parking, and availability of child-birthing classes.
Visit us online for more information on maternity care services at Children's Hospital or Murrieta.