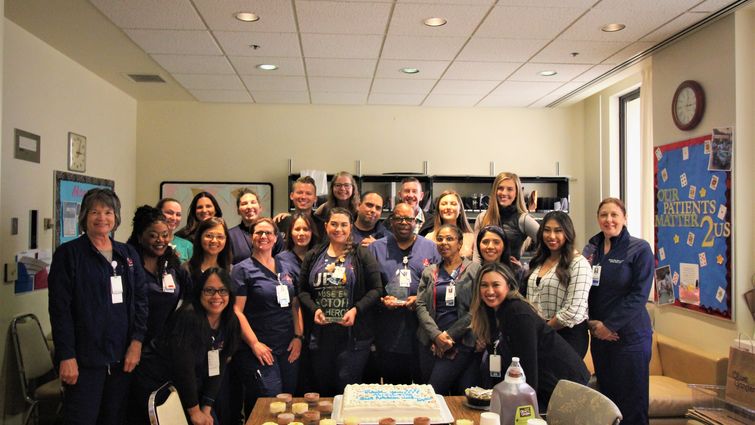 Nurses on unit 4700 were awarded the Loma Linda University School of Nursing 2019 Student Nurses Choice Award for best student experience, an annual recognition that honors the best of the nursing profession and the work they do.
The award was presented during Nurses Week as a special thank you to the nurses who provide hands-on experience and memorable experiences for students who rotate through the unit at Loma Linda University Medical Center.
Nurses Week, which was May 6-10, provided students the opportunity to say thank you for the mentorship provided by the nursing staff in the unit — the Medical Intensive Care Unit. Their constant caring and frontline service has been invaluable in teaching the students, said Andreia Lofthouse, executive director of student & alumni relations at the school.
"I am extremely proud of the nurses on Unit 4700 for winning this award for the second year in a row. They uphold the values of compassionate care to our patients while being positive role models and mentors for the nursing students," said Desara Shipley, RN, director of patient care for the unit.
In addition to the best clinical rotation unit, students also celebrated the nurses voted preceptor of the year for undergraduate and graduate education.
The award for Undergraduate Preceptor of the Year was given to Brittany Jordan, who has served as an operating room nurse at Surgical Hospital since 2017. "Although she was often extremely busy with cases, she still made the time to teach me each aspect of being a nurse," said Megan Palmer, a nursing student.
Rami Haddad, DO, who serves as a Family Medicine physician at Loma Linda University Health, was also honored as the Graduate Preceptor of the Year. "Dr. Haddad always makes sure the students are given opportunities to learn and is flexible with us when we faced challenges," said Michelle Brothers, a Doctor of Nursing Practice student.
"Each of the nominees for both the top unit and top preceptor represent the institution's values, which include compassion, integrity, excellence, teamwork and wholeness," said Elizabeth Bossert, PhD, RN, dean of the School of Nursing.
"We are proud to see nursing staff's commitment to provide quality education to the next generation of nurses," she said.