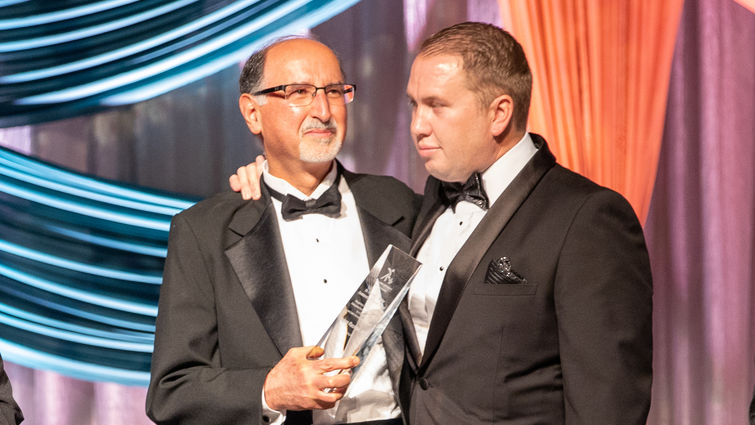 Anees Razzouk, MD, was recognized with the Leonard L. Bailey Outstanding Clinician Award at the 27th annual Loma Linda University Children's Hospital Foundation Gala. Brooks Bailey, son of the late Dr. Bailey, presented Razzouk with the recognition during the event on Thursday, February 20.
Razzouk, a cardiothoracic surgeon, completed much of his medical education and training at Loma Linda University Health, much of it under Bailey, and for 35 years has remained a part of the organization because of its mission and longstanding history of excellence in cardiac services. He has performed over 8,000 heart surgeries.
Now the chair of the Department of Cardiothoracic Surgery since 2008, Razzouk has had the privilege to travel abroad with his colleagues and provide cardiac services to other countries, such as Myanmar, China, Malaysia and Syria.
Razzouk prides himself on giving those babies born with congenital heart disease hope for survival and a better quality of life. Congenital heart disease is the most common birth defect, affecting about 40,000 births per year in the U.S., according to the Centers for Disease Control and Prevention.
During the lifespan of his career as a cardiothoracic surgeon, Razzouk has performed or taken part in over 400 pediatric and adult heart transplants. While every doctor experiences the loss of a patient during their profession, Razzouk says it is never an easy thing to deal with.
Razzouk aims to provide each patient with a customized treatment plan and personalized care.
In addition to caring for patients, Razzouk has been blessed with the ability to educate residents and fellows who want to be the heart surgeons of the future.
Teaching families to be heart healthy is also a priority for Razzouk. No matter what a child is going through, if they have a heart condition or not, he says the best thing adults, parents, grandparents and caregivers can do for their kids is to set an example of healthful living.
Leonard Bailey was a world-renowned pediatric heart surgeon whose work gave hope to children everywhere. His research and innovations in infant cardiology have helped save thousands of lives around the world. For 42 years, Bailey guided patients and their families through some of their most trying times.