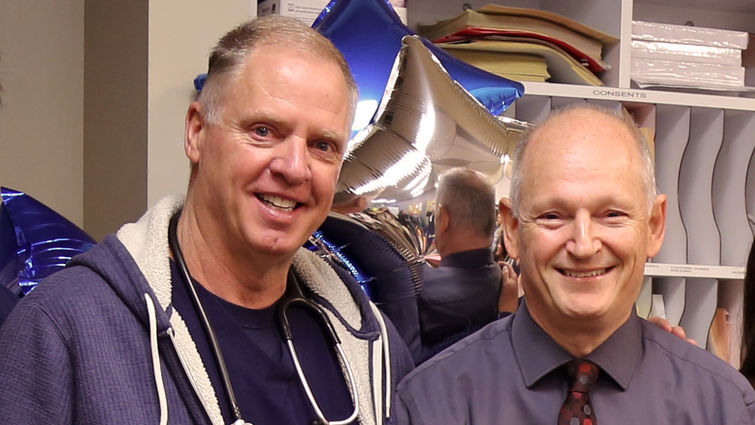 Darren Moon, a staff nurse at the Loma Linda University Medical Center emergency department, was recently reunited with a patient whose life he was instrumental in saving.
The reunion came 12 months after patient David Colwell was admitted the morning of May 13 after experiencing the symptoms of a heart attack. Surrounded by emergency department colleagues, Moon was recognized for his actions as the 500th Healing Hands Grateful Patient Program recipient.
During the presentation, Colwell addressed Moon. "Thank you for your expertise and quick action to address my situation," he said. "I understand you were also part of the team in the cardiac cath lab who attended to me. I'm glad you are part of the Loma Linda family."
The presentation came as a surprise, Moon said. "It was quite an honor to receive the 500th Healing Hands pin," he said.
The Loma Linda University Health Healing Hands Program provides patients a way to recognize staff members who have provided exceptional care. Through the program, patients and their families can give a gift of any amount and direct it anywhere they would like to support on campus along with a note to the caregiver.
After returning to work, Colwell, who is the advancement operations officer at Loma Linda University Health, wanted to recognize the person whose actions saved his life. While he was unable to recall many of the details of his experience due to the symptoms he was experiencing that morning, Colwell's search led to Moon, who had first overseen his care.
Moon speaks highly of his department. "Emergency department leadership has created and continues to foster a culture of teamwork that leads to better patient outcomes," he said. "When David was a patient, it wasn't just me caring for him — there was a team of MDs, RNs, and techs who jumped in to assist."
Connie Cunningham, executive director of emergency services at Loma Linda University Health, lauded Moon for his ability. "Darren is an amazing nurse, skilled and well-rounded. When David arrived in the emergency department, Darren was focused and calm as he sifted through all of the symptoms," she said.
Loma Linda University Medical Center's certification as a STEMI (ST elevated myocardial infarction or heart attack) receiving center helps every patient who arrives at the hospital experiencing cardiac-related indicators. "When a patient presents with David's symptoms, time is of the essence. We strive to have patients in the cardiac catheterization lab in under 30 minutes," Cunningham said.
Within 10 minutes Colwell was transferred to the lab, and his doctors completed a lifesaving procedure less than 90 minutes after he first arrived in the emergency department.
"While our patients may not know who their nurse was in the emergency department, we are grateful that they recognize the exceptional care provided by our team," Cunningham said. "The Healing Hands program is a wonderful way for our patients and their families to express gratitude to our hardworking staff."
Nursing was a natural progression for Moon, who retired from the Downey Fire Department as a fire captain after 25 years, with 11 years spent working as a paramedic. While he wanted to work for a Level 1 Trauma Center after earning his RN degree, there was a special reason he wanted to work at Loma Linda University Medical Center.
"I was the medical center's first 'Mini Maze' patient to correct an abnormal heart rhythm in 2012," he said. "Dr. Rosario Floridia performed the procedure and the results have been fantastic. This is my opportunity to pay back for the tremendous care I received."
Moon joins several emergency department staff who have been honored through the Healing Hands Grateful Patient Program.
Information about the Healing Hands Grateful Patient Program may be found at http://bit.ly/2tcUzRG.