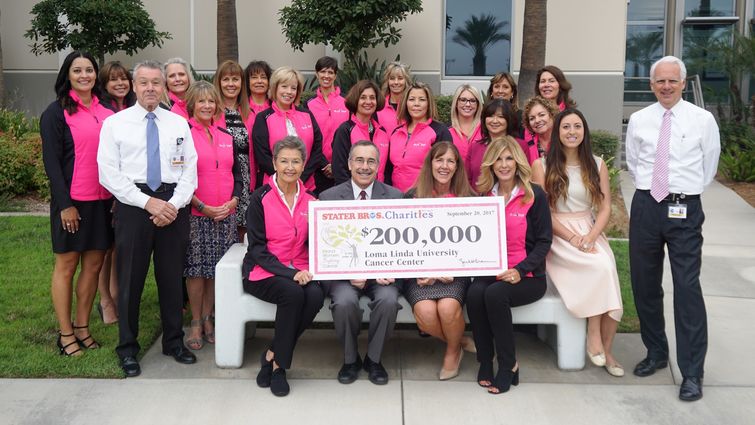 Stater Bros. Charities and Inland Women Fighting Cancer recently made a special delivery to Loma Linda University Cancer Center (LLUCC). The two organizations presented a check for $200,000 to the center, which is a portion of the funds raised at the 9th annual Believe Walk that took place in October 2016.
Judy Chatigny, MSN, RN, executive director, LLUCC, expressed her gratitude to those present. "This donation gives us the means to provide whole person care to our patients — not just treating the cancer but the emotional and spiritual well-being of them as well," she said.
The $200,000 will be dedicated toward supportive care services for cancer patients, which are typically not covered by insurance companies.
The Stater Bros. Charities and Inland Women Fighting Cancer Patient Resource Center provide supportive care services to patients with cancer at no cost to the patient. "Our patients are in need of so many services that are not paid for by their insurance yet are vital to their well-being and healing," Chatigny said.
Out-of-pocket expenses for patients with a cancer diagnosis are continuing to increase, placing incredible financial distress on the individual and the family. "We are requesting funding to ensure the services continue to be available to patients without cost so that they are available to everyone who needs them regardless of ability to pay," Chatigny said.
The services provided at the Cancer Center were developed based on a whole person care model to address physical, psychological, social, spiritual and financial concerns.