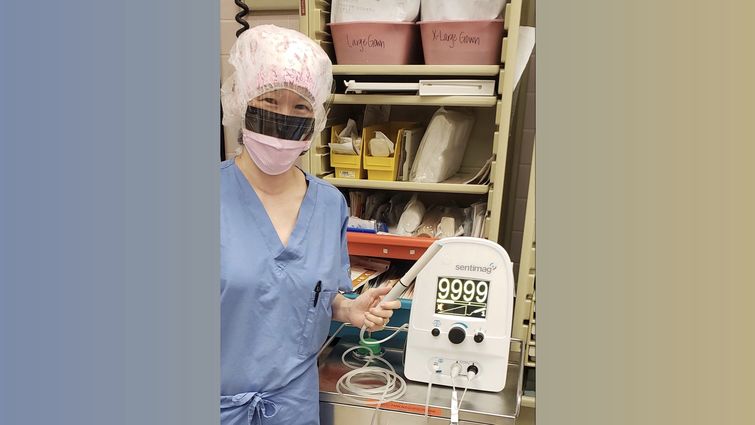 Breast cancer patients in the Inland Empire now have access to a new option when preparing for breast cancer surgery. Magseed®, offered at Loma Linda University Health, provides a simpler, more convenient alternative to the traditional wire localization methods that have been used for more than 30 years.
Approximately 1 in 8 women will be diagnosed with breast cancer in their lifetime, according to the American Cancer Society. Improvements in breast cancer screening and better public awareness mean that cancer is being caught at an earlier stage and the tumors are smaller and harder to feel. In these cases, a technique called wire localization is typically used by surgeons to locate the tumor during surgery.
Wire localizations must be conducted on the same day as surgery and can cause discomfort for the patient that may worsen presurgical anxiety, especially as the patient must sit still with the wire sticking out of her skin while waiting for surgery. Loma Linda University Health has chosen to move away from traditional wire localization, which can also cause delays in the surgical schedule.
According to Sharon Lum, MD, breast surgeon and medical director of the Breast Health Center at Loma Linda University Cancer Center, says this new way of localizing the tumor is beneficial for all involved, but most importantly, the patient.
"This provides a more comfortable patient experience with a minimally invasive, wire-free solution rather than the alternative of an uncomfortable localization wire," she says. "And it's much more convenient as the patient can go about her day afterward and simply show up on the day of surgery without having additional procedures."
The new technology is smaller than a grain of rice and can be placed into the tumor any time prior to surgery. Once implanted, the seed produces no discomfort, won't move, and patients are not restricted in their movement or activity. During surgery, the seed is detected with a probe that guides accurate removal of the tumor and allows the surgeon to select the best surgical approach.
The procedure is performed at Loma Linda University Medical Center and Loma Linda University Medical Center-Murrieta.
Visit the Breast Health Center at Loma Linda University Cancer Center online for more information, or call 1-800-782-2623 to schedule a screening.
Information about cancer care in Murrieta is available online or by calling 951-290-4148.