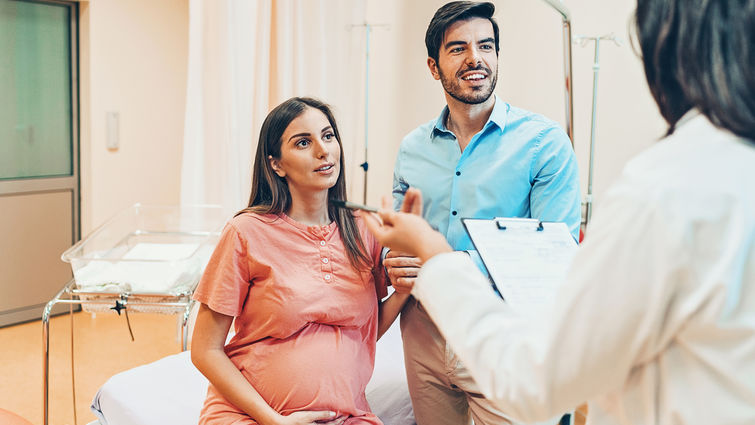 The cesarean-section (C-section) birth rate has risen 50 percent nationwide in the past decade, according to the California Health Care Foundation, and while vaginal births are the preferred option by many physicians for a normal, healthy pregnancy, C-sections are sometimes a medically necessary intervention.
A cesarean delivery is an extensive surgical procedure where a baby is delivered via incisions in the lower abdomen and uterus. This delivery option may be planned ahead of a woman's due date if there are serious pregnancy complications or may be an emergent procedure if concerning issues arise during labor. 
Obstetrician and gynecologist Courtney Martin, DO, medical director of maternity services at Children's Hospital, says that while C-sections can be life-saving for a mother and child, education and understanding of this birth method is key. 
"It's important not to overuse C-sections because even though that birth approach is lifesaving in certain circumstances, the surgery can introduce serious risks for both moms and babies," Martin says. 
She says risks for babies can include higher chances of neonatal intensive care unit admission, respiratory issues and higher rates of infection, while the mom could face a higher risk of hemorrhaging, need for transfusions, blood clots and infections.
Often, moms who deliver via C-section for health reasons are criticized for taking the "easy way out." Martin says that's not the case. 
"A C-section is a major abdominal surgery, which requires a longer recovery time," Martin says. 
She advises women who are facing vaginal birth or C-section birth to talk with their doctors about their concerns as well as options for pain management before and after birth. 
Martin wants to discourage women from having multiple C-sections, due to the increased likelihood of having placenta accreta. This serious pregnancy condition can occur after blood vessels and parts of the placenta grow through prior C-section scars. 
"We tackle this condition frequently at Children's Hospital," Martin says. "It generally requires a hysterectomy at time of delivery and blood transfusions due to bleeding — a devastating outcome for a mother who is hoping to conceive more children." 
Martin reminds women that many moms can have a vaginal birth after cesarean (VBAC). 
"Although a VBAC won't work for every mom, women should talk with their OB-GYNs if they're interested in the possibility," Martin says. 
If an expectant women is a good candidate for a VBAC, it's important to choose a birthing hospital that allows VBACs, because there are risks. 
"Delivering VBAC in a hospital is the safest route," Martin says. "You'll have a well-skilled team, including an OB-GYN and anesthesia physicians, and also a well-equipped facility and operating room." 
Martin encourages expectant women to talk with their physicians about their upcoming birth if they have questions or concerns.
"Every delivering mother's situation may be slightly different," Martin says. "Educate yourself on vaginal births and C-section births. The unexpected sometimes happens, and it's important to remember you have options and support." 
Loma Linda University Children's Hospital enables moms and babies to have as low-risk deliveries as possible. The institution is recognized in the state of California for its low number of cesarean births performed. Children's Hospital remains well prepared to handle both normal and complicated vaginal and C-section births. 
For more information about labor and delivery at Loma Linda University Children's Hospital, visit our website or call 1-800-825-KIDS. 
Meet Our Providers
Courtney B. Martin
Medical Director of Maternity Services, Attending Physician