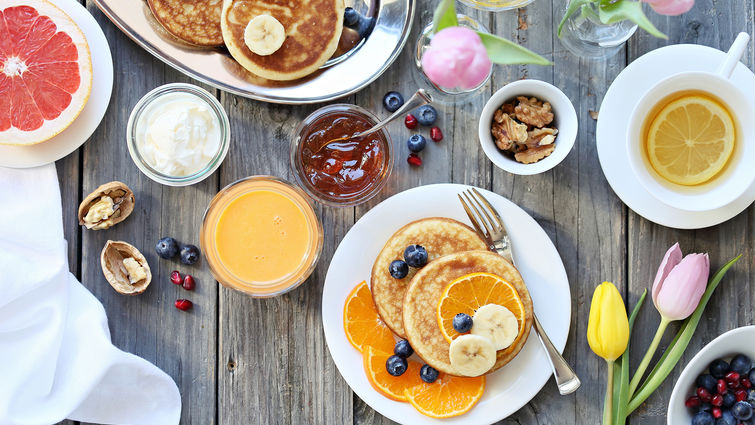 People often say "breakfast is the most important meal of the day," but despite the well-worn saying, about 10 percent of the U.S. population does not eat breakfast, according to a survey by the NPD Group. 
JeJe Noval, PhD, RDN, assistant professor for the School of Allied Health Professions at Loma Linda University, says breakfast is indeed essential to maintain a healthy lifestyle. "Through the sleeping hours, we do not eat or drink, so we wake up in a state of dehydration and with lowered blood sugars," Noval says. "To start the day fueled and hydrated, we need to break the fast that we have been in through the night."
Because of this fasting, Noval says breakfast is just as critical as lunch or dinner for fueling the body — even if you don't feel hungry in the morning. People often don't feel hungry in the morning because they've eaten a late and heavy dinner the night before. "The best way to allow your body to have an appetite for breakfast is to eat earlier in the evening the night before," she says.
For those who are seeking a quick and nutrition-packed breakfast, Noval suggests making a smoothie with berries, a banana, spinach or kale thrown in with some chia or flax seeds. "A smoothie may be easier to consume when an appetite is not present at that time. Adding in a scoop of protein powder with your milk of choice round it out. This way, you get a variety of nutrients into your body to jump start the day," Noval says.
For those who like having a traditional breakfast, she also recommends that breakfast include a good source of protein, a whole grain, a fruit and a glass of milk. "Always try to include food groups that provide maximum energy and good cognitive function," Noval says. "The negative consequence of skipping breakfast is prolonging the state of dehydration, resulting in a sluggish feeling."
In addition, Noval says waking up in a state of decreased fuel can result in difficulty concentrating on the task at hand. "The saying might seem over-used, but it can serve as an important reminder that our bodies need fuel and hydration to work best."
If you are interested in learning how to become a Registered Dietitian through Loma Linda University School of Allied Health Professions, you may contact us at sahpadmissions@llu.edu or call us at 909-558-4599.
To learn more about the diet that may be best for you, consider a lifestyle visit consultation with one of our Lifestyle Medicine physicians at the Center for Health Promotion. They will work closely with your primary care physician to improve your overall health and wellbeing. Please call the Center for Health Promotion at 909-558-4594 to make your Lifestyle Consultation visit today.