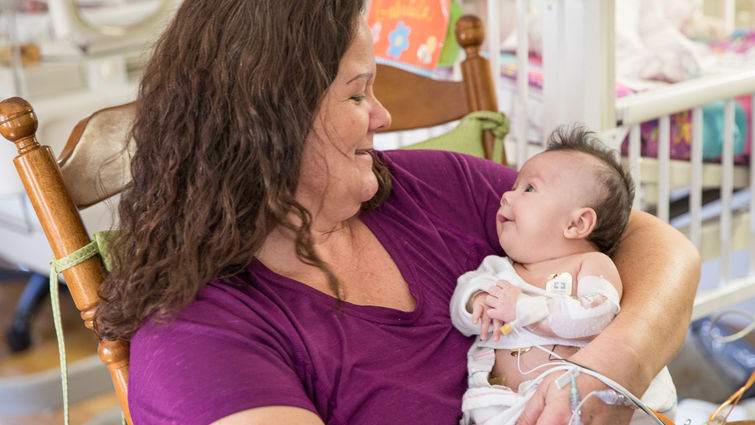 Even though Gabriela Hernandez was born six weeks premature on August 20, 2019, doctors ruled her perfectly healthy and even large for her early birth. Everything seemed fine.
Gabriela's mom, Monique, was discharged from the hospital the next day, but Gabriela remained admitted. She was swollen and had developed abdominal distension after only one feeding. Her doctors began to think Gabriela may have necrotizing enterocolitis, or NEC, a devastating disease that affects the wall of the intestine, ultimately destroying it. This disease is the second leading cause of death in premature babies and the most common gastrointestinal disease of premature newborns.
The same day Monique was discharged from the hospital, she received the distressing phone call.
They told me it didn't look good for my daughter. My heart dropped.Monique Hernandez
Gabriella was unrecognizable when her parents reached her — she was covered in tubes and lines, surrounded by nurses and doctors.
Just three days after birth, Gabriela arrived at Loma Linda University Children's Hospital in critical condition. She desperately needed emergency surgery, having NEC, pneumonia and an E. coli infection within her abdomen.
Andrei Radulescu, MD, pediatric surgeon at Children's Hospital, met Gabriela's parents at the hospital entrance. He was honest with them about the critical nature of her condition, explaining that while she would definitely die without the surgery, she might still die during or after surgery.
"There was a high chance she wouldn't make it out of the operating room," Radulescu said. "She needed several blood transfusions just to be stable enough to operate."
Radulescu explained that post-surgery they would have to wait 24-48 hours to see if Gabriela would survive. If she did, they would plan her continued care and what her medical future would entail.
"Right before he took her into surgery, Dr. Radulescu asked me if I was okay," Monique said. "I told him I was scared and stressing. He responded, 'don't do that, that's my job now.' As a mother, I can't describe how much that meant to me. I was losing my baby, but yet, I knew he would take care of her."
Gabriela made it through the surgery, though much of her large and small intestines had been removed. Yet, her recovery was only the beginning.
A painful recovery
"Every time I'd check-in, there was something else wrong, and it seemed like it would never end," Monique said.
Gabriela continued needing transfusions — platelet, blood and plasma. She was on morphine for the high pain she was experiencing. She had a colostomy placed during the surgery due to the intestine loss. She couldn't breathe on her own. Gabriela had never even been held by her mother or father.
"When I held her in my arms for the first time, several months after her birth, she was still hooked up to so many wires, surrounded by pillows and padding," Monique said. "Seeing her so sick and in so much pain, not being able to really hold her or soothe her, that was the most helpless I've ever felt in my life."
Gabriela spent almost three months in the NICU with every day feeling like a challenge.
One day, when Gabriela's parents went to visit her, they saw a baby in her bed, but this baby didn't look anything like Gabriela. The nurse assured them that this baby was theirs.
"She'd spent so much time covered in tubes, hooked up with wires on her head that I didn't even recognize her without them," Monique said. "She looked like a baby again, instead of this thing on death's doorstep. She was breathing on her own without a respirator, and that was the moment I finally knew she would be okay."
Hope for the future
Today, Gabriela is strong, alert and healthy. While she will eventually need more surgeries to reverse the colostomy and further repair her intestines, she's now at home with her family.
"It's incredible to see how far she's come," Monique said. "I could never thank the hospital staff and Dr. Radulescu enough — I swear he's an angel. The front desk staff, transport staff, nurses, child life specialists, surgeons — they brought my daughter back from the brink of death."
They saved her, and I can never repay them for that.Monique Hernandez
Radulescu has operated on hundreds of kids with NEC. He has studied the disease for the past 14 years, making it the focus of his life. Radulescu, with the support of Children's Hospital, conducts extensive basic science research on NEC to find a cure. He is making strides in developing a prevention method for the devastating disease.
"My goal is to never operate on a child with NEC again," Radulescu said. "For every patient that survives NEC, one dies. I will remember those kids forever. Gabriela was one of the miracle ones."
Visit our website to learn more about the lifesaving care provided at Loma Linda University Children's Hospital.