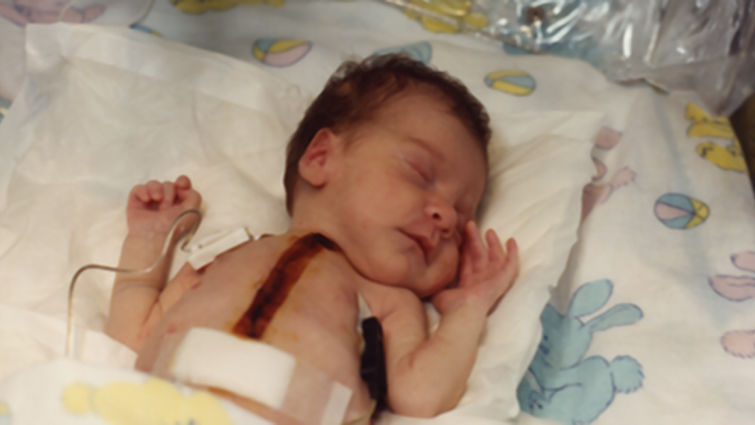 From Scope, January-March, 1985
SUNDAY, OCTOBER 14:
Baby Fae is born three weeks premature at Barstow Community Hospital. She is diagnosed as having hypoplastic left heart syndrome.
FRIDAY, OCTOBER 19:
Dr. Leonard Bailey, pediatric cardiac surgeon at Loma Linda University, returns from a medical conference. Baby Fae's mother checks her into Loma Linda University Medical Center when her condition worsens. Dr. Bailey begins an all-night conference with the baby's family, explaining the options.
SABBATH, OCTOBER 20:
After the conference with Dr. Bailey, Baby Fae's parents give initial consent to begin medical tests. Baby Fae is put on the respirator and begins taking medication with prostaglandin to keep her alive.
SUNDAY, OCTOBER 21:
Doctors at Loma Linda University begin screening a pool of baboons to determine which one is the most compatible with Baby Fae.
MONDAY, OCTOBER 22:
Dr. Bailey submits the final update on his application to LLU's Internal Review Board (IRB) for permission to begin clinical trials of the baboon-to-human xenograft. He had received initial approval from the IRB in November 1983. The LLU and LLUMC public relations staffs begin preparations for pressroom facilities. Plans are made to not release the story until after the surgery Friday afternoon.
WEDNESDAY, OCTOBER 24:
The IRB approves final plans for the transplantation. It's learned that the Barstow newspaper has the story; they are persuaded not to print it until after the surgery.
THURSDAY, OCTOBER 25:
The San Bernardino newspaper also learns of the story. A negotiation session is held, and it is decided that if LLU holds off releasing the story until Saturday, the Barstow paper will print the story Friday afternoon, and the San Bernardino newspaper will take second with a Saturday morning story. That evening Baby Fae begins to die. Doctors almost begin surgery immediately, but stabilize her.
FRIDAY, OCTOBER 26:
At 5:00 a.m., the final tests are in which enable doctors to select the most compatible baboon. By 6:30 a.m., surgery has begun. At 11:35 a.m., the transplanted baboon heart begins to beat on its own in the baby's chest. Baby Fae becomes the first infant to receive a cross-species heart transplant. Someone at the San Bernardino paper prematurely puts the news on the wire; Loma Linda University is deluged with TV, radio, and print media, and begins receiving the first of thousands of phone calls.
SABBATH, OCTOBER 27:
Baby Fae's condition is listed in critical condition but stable, with good vital signs.
SUNDAY, OCTOBER 28:
Dr. Bailey, Dr. Sandra Nehlsen-Cannarella, and Dr. Jack Provonsha hold the first press conference about Baby Fae. The director of a transplant organ procurement agency says the agency had the heart of a 2-month-old child available, but wasn't contacted.
MONDAY, OCTOBER 29:
Baby Fae is taken off the critical list and upgraded to serious but stable. She is removed from the respirator and placed in an oxygen tent.
TUESDAY, OCTOBER 30:
At 11:35 a.m., Baby Fae becomes the longest living recipient of a cross-species heart. First videotape and color photographs of the infant are released, showing Baby Fae stretching, yawning, and sleeping. The organ procurement agency now says the heart of the 2-month-old child didn't become available until 12 hours after the transplant.
WEDNESDAY, OCTOBER 31:
Dr. Robin Doroshow tells a press conference that Baby fae "sucks on her pacifier very aggressively, as though she thinks we are not feeding her enough."
THURSDAY, NOVEMBER 1:
LLU asks the Regional Organ Procurement Agency to add Baby Fae to its list of parents who might need donor human hearts.
FRIDAY, NOVEMBER 2:
Baby Fae enters her second week with the transplanted heart.
SABBATH, NOVEMBER 3:
Churchgoers at Loma Linda University Church of Seventh-day Adventists on campus are told by Dr. David B. Hinshaw that Baby Fae is "perking along, She's fine this morning."
SUNDAY, NOVEMBER 4:
Baby Fae graduates to full-strength formula.
MONDAY, NOVEMBER 5:
Baby Fae's progress is noted in headlines around the world. She is reportedly eating normally, grasping at objects, and wailing a "lusty cry."
TUESDAY, NOVEMBER 6:
LLUMC officials say they will relay all offers for the family's story from news media to the family.
WEDNESDAY, NOVEMBER 7:
Baby Fae continues to grow stronger, and her weight increases from 4.8 to 5 pounds.
THURSDAY, NOVEMBER 8:
New photographs are released of Baby Fae, showing her "talking on the phone" with her mother who has a cold and is unable to visit her in person.
FRIDAY, NOVEMBER 9:
Results of tests performed to continually monitor Baby Fae begin to change. Baby Fae's mother releases a statement to the press saying she has no regrets about the surgery, but asks for "peace of mind" from the pressure from the press.
SUNDAY, NOVEMBER 11:
Dr. Doroshow reveals on Face the Nation television that they have now determined that Baby Fae is suffering a mild rejection episode, but is responding well to treatment.
MONDAY, NOVEMBER 12:
Baby Fae is returned to a respirator and intravenous feeding in an effort to put less stress on her body as she continues to fight a rejection episode.
TUESDAY, NOVEMBER 13:
Lymphocyte immune globulin and intravenous feeding is added to Baby Fae's regimen of Cyclosporin and steroids. The infant continues to show no signs of infection. NBC News reveals Baby Fae's first name on national television, breaks details on the parents' background, and questions LLU's motivation in selection of the first infant in clinical trials.

WEDNESDAY, NOVEMBER 14:
Dr. Hinshaw reports that Baby Fae remains pink and warm, but is still not producing enough urine. He also decries the NBC report on Baby Fae's parents, saying their background did not make any difference in the hospital's handling of the case.
THURSDAY, NOVEMBER 15:
Baby Fae's condition deteriorates quickly—her kidneys fail and her heart becomes unstable, failing to respond to revitalization efforts; the infant dies at 9:00 p.m.
FRIDAY, NOVEMBER 16:
At a 10:00 a.m. news conference, Dr. Bailey states that Baby Fae and her parents have opened new vistas for all children and have given a new ray of hope for babies to come.
SABBATH, NOVEMBER 17:
Several thousand mourners attend a memorial service for Baby Fae in the Loma Linda University Church.
View the full-length documentary, "Stephanie's Heart."