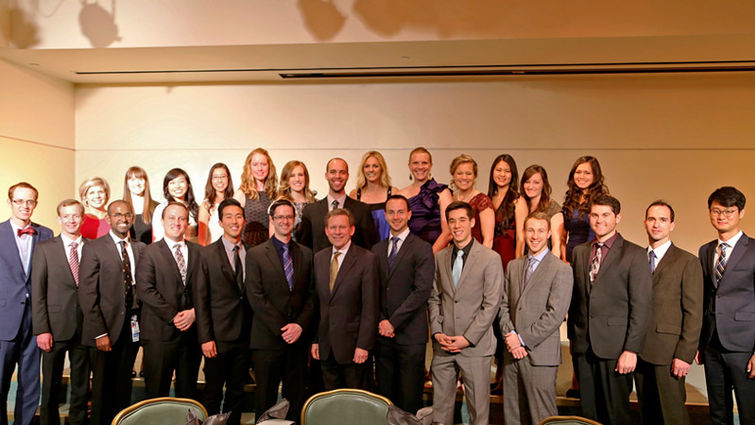 Twenty-six of Loma Linda University School of Medicine's best and brightest students and two house staff physicians were inducted into Alpha Omega Alpha, the national honor medical society, on Wednesday, March 16, during a special ceremony in the Wong Kerlee International Conference Center.
In addition to this year's honorees, two members of the very first group inducted into AOA membership from the Loma Linda University School of Medicine (LLUSM) Class of 1957—Ray Herber, MD, and Glenn Foster, MD—attended the banquet. Herber noted afterward that next year marks the 60th anniversary of the Epsilon chapter of California, as the LLUSM branch of AOA is called.
According to the Alpha Omega Alpha website, the group—which was founded in1902—is "dedicated to the belief that in the profession of medicine we will improve care for all by:
Honoring gifted teaching
Encouraging the development of leaders in academia and the community
Supporting the ideals of humanism
Promoting service to others
"Election to Alpha Omega Alpha is an honor signifying a lasting commitment to scholarship, leadership, professionalism, and service," the website adds. "A lifelong honor, membership in the society confers recognition for a physician's dedication to the profession and art of healing."
After a warm welcome by Janna Vassantachart, student president of the Epsilon chapter, and an invocation by Danny Wongworawat, MD, councilor for the chapter, Roger Hadley, MD, dean of LLUSM, introduced the guest speaker.
"Dr. Ralph W. Kuncl is the 11th president of the University of Redlands," Hadley said. "He joined the university in August 2012, having served most recently as provost and executive vice president, as well as professor of neurology and brain and cognitive sciences at the University of Rochester in New York."
Hadley observed that he had been told that Kuncl is an outstanding speaker as well as a kind and innovative leader.
After thanking Hadley for inviting him, Kuncl told attendees that the options open to them are limitless. To illustrate the point, he said, "I became a university president. Go figure."
He then offered four pearls of wisdom he has gleaned over the years:
Play your best game at your best venue
Do what you love
Make an impact
You can love an institution, but an institution can't love you back. Focus on loving the people of the institution, not the institution itself
"It's hard to be tolerant of the headstrong and unlovable," Kuncl continued, "but you'd better learn it now. You'll find them all over in your career."
After talking about his recent experiences as a patient at the Loma Linda University Cancer Center and singling out several as outstanding and compassionate practitioners, Kuncl talked about what he looks for in choosing leaders.
"The pedigree is interesting," he noted, "but it's not that important. Character is the one thing that matters. Being smart and being nice don't cut it. Having an inner light of character matters."
After Kuncl's remarks, Wongworawat joined Henry Lamberton, PsyD, associate dean for student affairs, in introducing the new members of the Epsilon chapter. As the new members were called to the podium to receive their membership certificates, brief vignettes of their personal and career history were read to loud cheers from the audience.
The vignette that garnered by far the most applause was for Stephen Thorp, vice president of the class of 2016. After his accomplishments were read, it was revealed that Thorp just became engaged to Cherilyn Clayville, a nurse on unit 8300 at the Medical Center. Thorp and Clayville plan to marry on June 5 in Oliver, British Columbia, Canada, in his family's cherry orchard. They will then head to Grand Rapids, Michigan, where Thorp will take his residency in general surgery at Spectrum Health on the campus of Michigan State University.
AOA initiates from the class of 2016:
Bosma, Alayna
Brown, Tyler
Burke, Corey
Calvert, Justin
Crane, Clarkson
Davis, Paul
Epperly, Scott
Fedusenko, Ashley
Ferguson, Aubrey
Gerke, Benjamin
Giang, Michael
Guthrie, Laurel
Haggerty, Brielle
Hibma, Abby
Hill, Hannah
Lee, Michael
Lin, Elaine
McCormick, Melissa
McCoy, Joshua
Park, Ji Kwan
Parker, Lauren
Stevens, Paige
Thorp, Steven
Vassantachart, Janna
Yeung, Denise
Yune, Ji-Ming
AOA house staff initiates for 2016:
Petkovic, Djuro, MD and Rajaratnam, David, MD
As the event drew to a close, the newest members of the Epsilon chapter of AOA were invited to stand and read together the Declaration of Geneva, a pledge of consecration to the highest ideals of the healing professions.