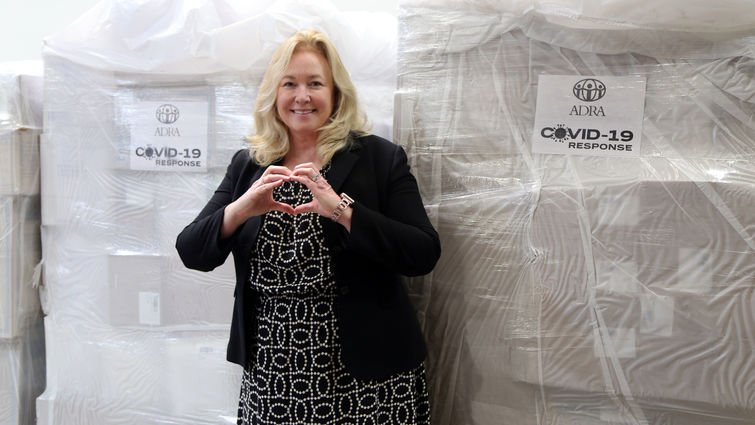 The Adventist Development Relief Agency (ADRA) donated more than 45,000 personal protective equipment (PPE) to Loma Linda University Health to aid frontline healthcare workers during the COVID-19 pandemic.
Silver Spring, Maryland-based ADRA is the humanitarian arm of the Seventh-day Adventist Church and serves in 118 countries. It works to empower communities and change lives around the globe by providing sustainable community development and disaster relief.
"Time is life, and getting essential workers proper life-saving resources during these unchartered times is critical," said Michael Kruger, ADRA's president. "The staff at Loma Linda University Health are putting their lives on the line for as many people as possible, but they need to be equipped with reliable gear to continue providing top-notch care. We are honored that Loma Linda thought of us, and we're proud to help provide immediate assistance where it's needed most." 
Securing PPE has been a lingering challenge as hospitals and clinics around the nation face supply chain shortages in part due to medical supply rationing — fueled by the pandemic.
"One often does not recognize the value of a family until a need arises," said Richard H. Hart, MD, DrPH, president of Loma Linda University Health. "This has been the situation for Loma Linda University Health over the past month as we have faced the COVID-19 pandemic with many possibly positive patients arriving to our hospitals and clinics. We are deeply grateful to ADRA, our sister organization in service, for providing a large amount of personal protective equipment to protect our employees during this critical time." 
The nearly 3,000-pound shipment included six pallets of N95 masks, face shields, gloves and isolation gowns, among others — arriving within days of the request.
"Our highest priority will always be the health and safety of our patients, employees, students and community," said Rachelle Bussell, RN, MA, CFRE, ­­senior vice president for Advancement at Loma Linda University Health. "This gift will help us to provide lifesaving protection — a necessity during one of the most urgent public health crises in generations."