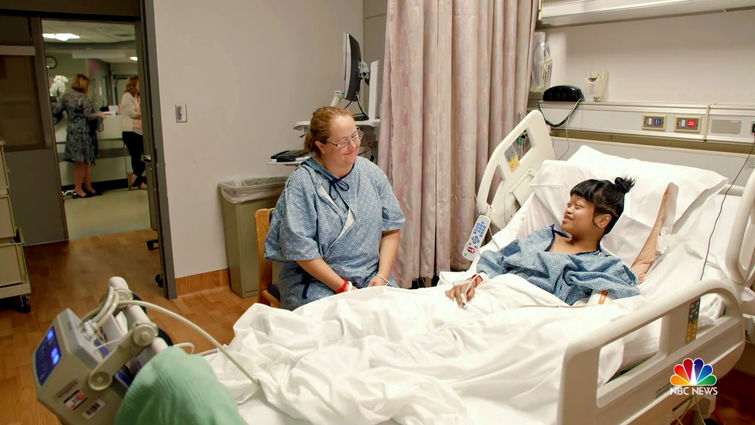 Four individuals now have a new birthday to celebrate each April after receiving new kidneys this week at Loma Linda University Health, with the April 23 and 24 transplants taking place during National Donate Life Month and, to date, marking the longest paired kidney exchange performed exclusively at LLU Medical Center. 
Four living donors made the life-saving transplant chain possible. It was set in motion by altruistic donor Tracey Newton, a sheriff's deputy in Palm Desert. The "altruistic" classification means she donated a kidney even though she didn't personally know anyone who needed the vital organ. 
The four organ recipients are doing well:
• Asia Khem, age 28, of Cathedral City, California
• Maria Gomez, age 31, of San Jacinto, California
• Mauricio Reyes Valdes, age 28, of Victorville, California
• Josephine Save, age 42, of Moreno Valley, California
In addition to Newton, three more individuals served as living donors:
• Thya Broadway, age 23, of Cathedral City, California
• Melody Save, age 22, of Moreno Valley, California
• Luis Jara, age 54, of Victorville, California
"We are grateful to all the donors who selflessly gave of themselves to allow four individuals a new chance at life," said Michael De Vera, MD, transplant surgeon and director of the Loma Linda University Transplant Institute.
Cascading chain of lives saved through living donation
Kidney donation chains occur when two or more people are willing to donate a kidney to a loved one but are not compatible with that person in factors such as age, size, blood type and immunology. 
Tracey Newton received her clearance to become an altruistic living kidney donor in January 2018. Her information was entered into a special software database that can identify possible paired donation chains that clinicians then verify. Innumerable factors can cause possible chains to break down and require hopeful recombination.
In this case, organ incompatibilities required a chain longer than two donors and two recipients. The four living donors' gifts of their kidneys allowed four people to be saved. 
"Living donation in general, and this amazing eight-person chain specifically, exemplifies the best of the human spirit and the art of medicine," said Charles Bratton, MD, who is the surgical director of kidney transplant and was one of the surgeons performing the donor surgeries and transplants along with Duane Baldwin, MD; Michael de Vera, MD; Gwendolyn Garnett, MD; Arputharaj Kore, MD; and Philip Wai, MD.
A new living donation initiative at Loma Linda University Transplant Institute streamlines the process of helping potential living donors discover if they're good candidates for the procedure. Possible donors can now visit the clinic on the designated day of every other Tuesday and see all the necessary specialists at once.
Kidneys are the most common organ donated by living donors, but living individuals can also donate portions of a lung, pancreas, liver or intestines.
Detailed information about the rewarding process of being a living kidney donor is available on The Transplant Institute's website. 
About the Transplant Institute
The Loma Linda University Transplant Institute is the only comprehensive multi-organ transplant center in the region. The commitment to quality, research and individualized care ensures that patients receive thorough, whole person treatment with the latest advances in transplantation.
Learn more:
lluh.org/transplant-institute