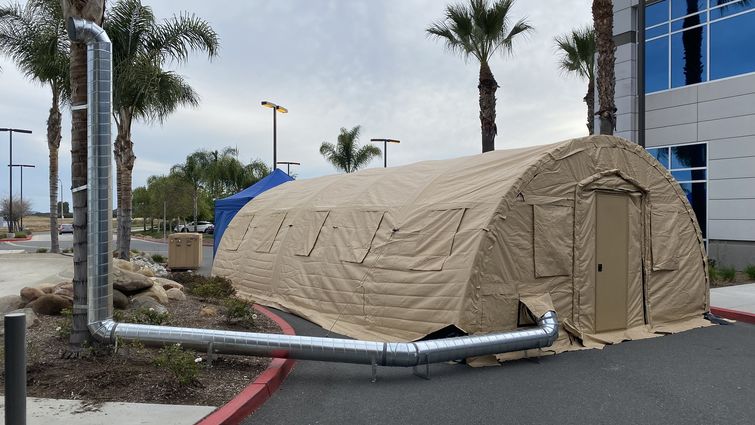 "Save lives, just make sure you're saving lives." Those were the few words uttered by Chuck Campbell, step-son of philanthropist Karl McMillen, when he handed over a $500,000 check to Loma Linda University Health on behalf of McMillen in late March.
With COVID-19 numbers continuing to rise in San Bernardino and Riverside County, Loma Linda University Health was in need of military-grade medical tents, which would provide surge space outside the emergency departments of both the Medical Center and Medical Center – Murrieta in the event of patient overflow due to the virus.
After hearing of the need, McMillen didn't hesitate in personally making the donation to fund the purchase of the tents and additional urgent needs.
"Karl sees himself as someone in the position to help others and that's what he wants to do," Campbell said. "One of our mantras is that one person can change the world. Everyone can do something to help in this time of crisis — the help doesn't need to be financial; it can be as simple as donating personal protective equipment or staying home."
Adrian Cotton, MD, chief of medical operations at Loma Linda University Health, said the tents are an invaluable resource. "The tents can serve as a negative pressure/isolation space that is suitable for screening patients under investigation for infectious disease, such as flu or COVID-19," Cotton said. "The tents are currently being utilized for patient care as deemed appropriate by hospital staff."
McMillen and his foundation, the McMillen Family Foundation, have provided generous support to Loma Linda University Health in the past, including fully funding the expansion of the Loma Linda University Behavioral Medicine Center – Murrieta's outpatient adolescent behavioral medicine program.
McMillen emphasizes that essential workers and those on the front lines fighting this virus are heroes. He wants to challenge those in the community to support healthcare workers as much as possible.
Visit our website to find out ways you can support healthcare workers at Loma Linda University Health during this crisis. Through your donations, you help us provide the lifesaving services our community desperately needs right now.