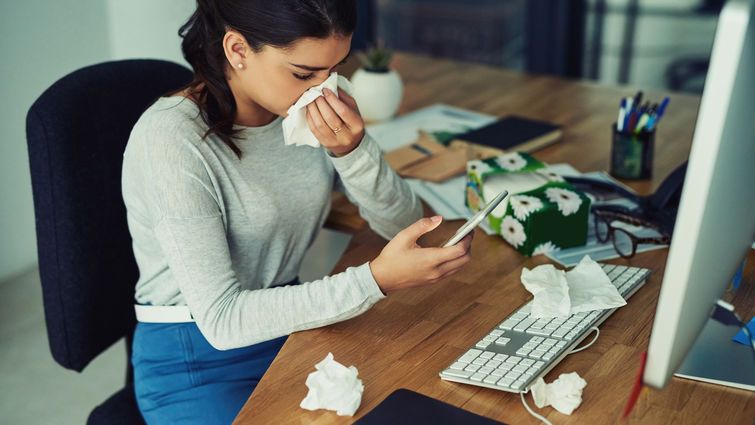 Avoiding sickness at work isn't always easy when there are so many viruses that cause the common cold, or worse, the flu. Trying to avoid sickness can be tough when you're surrounded by coughing colleagues and germ-filled workspaces. While you may not have the option to completely stay away from germs, there are steps you can take to avoid getting sick at work or in your home.
Laren Tan, MD, pulmonologist and director of Loma Linda University Comprehensive Program for Obstructive Airway Diseases, provides tips for good health behaviors that help stop picking up — or spreading — germs.
1. Give a little distance.
When you start to feel the symptoms, keep your distance from the people around you to protect them from getting sick as well. "By avoiding contact with those who are sick, you lessen your chances of becoming sick yourself," Tan says. "The flu can spread between people up to about six feet away."
2. Twenty seconds with soap and water.
The best way to avoid catching an illness is by frequent hand washing. Germs are everywhere, and as we go through our day-to-day exchanges, we're interacting with those germs as well. "When you wash your hands, use soap and water to protect yourself and to stop the germs from spreading to others," Tan says. "Wash your hands before and after you eat, after you use the bathroom, and after you sneeze or blow your nose." Tan also recommends washing your hands for at least 20 seconds or using hand sanitizer.
3. Don't touch faces — especially yours.
One way of getting a virus such as the flu is by passing the germs through the mouth or the nose down into the lungs. "Flu viruses have been shown to live on surfaces for up to eight hours, and cold viruses for three hours," Tan says. "Work against the spread of germs by keeping your hands away from faces."
4. Share less, clean more.
When you're sick, or feeling symptoms of sickness, it's important to avoid infecting others with not only a cough or sneeze, but through germs on your belongings. "When sickness is going around the office, try not to share things such as phones, computers or meals," Tan says. "Take time to sanitize the items you touch throughout the day."
5. Stay home.
While sick, limit interactions or physical contact with others as much as possible to keep them from infection. If you are sick with flu-like illness, the Centers for Disease Control and Prevention recommends staying home for at least 24 hours after the fever is gone — except to get medical care. "It's not worth risking the health of people around you who may have weak immune systems — like young children, the elderly or anyone with a chronic health problem," Tan says.
To learn more about flu prevention and to schedule a flu shot, contact Loma Linda University Primary Care at 909-558-6600. Don't have time to call? Make your appointment quickly and easily online at MyChart.