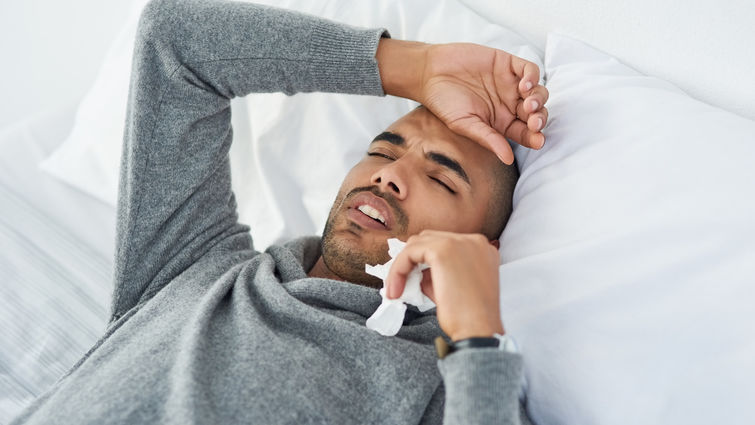 Colds are increasingly recurrent as the weather begins to turn, but what are the signs that a simple cold may be leading to worse complications? ​
"Generally, a cold is a milder respiratory illness than the flu," says Adrian Cotton, MD, chief of medical operations at Loma Linda University Health. "Cold symptoms often plague you for a few days. However, flu symptoms are usually more severe and often stick with you for a few days to weeks."​
It might be more than a cold if you're experiencing some of these common symptoms:               
A fever above 101 degrees. A lingering high fever lasting more than three days may be a sign of another infection which could lead to other serious health problems and should be treated as soon as possible. ​
Severe body and muscle aches. Because both the cold and the flu are viral infections, they cause uncomfortable and often painful inflammation. When the flu continues to attack your body, your immune system fights hard to ward off the infection. This may result in severe body pain and muscle aches. ​
Constant headaches or migraines.These symptoms may be pointing to a sinus infection. If you're experiencing pain around your face and eyes with thick nasal discharge, you could have a sinus infection. ​
Extreme fatigue, weakness and exhaustion. Suddenly having extreme fatigue and exhaustion is one of the earliest signs of the flu, often appearing before any other symptoms. Although fatigue is a common symptom of the cold, it's usually less severe than the flu. ​
Chest discomfort or a severe cough. If your cough has lingered and hasn't improved after two or three weeks, you could have bronchitis, which often needs treatment. Sinusitis or postnasal drip could also be a cause for the cough. ​
If you think you have a cold but are experiencing a number of these flu-like symptoms, Cotton encourages plenty of rest, avoid close contact with others, and encourage family members to get the flu shot if they haven't already. One of the easiest ways to prevent germs is washing hands frequently, Cotton says. Be increasingly aware of how you're feeling and how your illness progresses. Complications with the flu can result in serious health problems such as pneumonia leading to hospitalization, according to the Centers for Disease Control and Prevention. ​
If cold or flu symptoms persist, it's recommended to schedule an appointment with your primary care doctor​.
Unfortunately, some complications with your illness may be so severe that you shouldn't wait for an appointment. It's recommended to seek immediate emergency medical attention if you're experiencing:​
Croup, which causes a loud barking cough
Persistent wheezing
Trouble breathing, shortness of breath or rapid breathing
Pain or pressure in chest
Severe confusion
Blood when you cough
Bluish-colored lips or nails
Extremely high fever
Convulsions
Continued nausea and vomiting
Listlessness
Extreme aggression or irritability
Unconsciousness​
Cotton says most people who develop the cold or the flu will fight off the illness in a matter of days to several weeks, but it's important to be aware of your symptoms and be proactive with your health as flu season continues. 
To learn more about flu prevention and to schedule your flu shot, contact Loma Linda University Primary Care at 909-558-6600. Don't have time to call? Make your appointment quickly and easily online at MyChart.