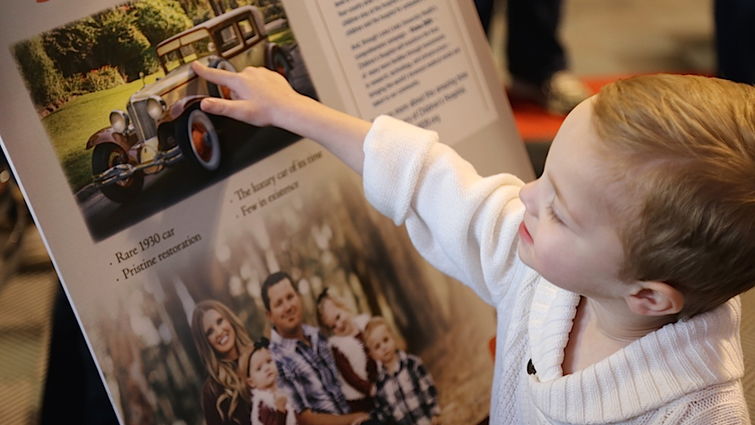 Thousands of car enthusiasts recently flocked to Scottsdale, Arizona for the 46th annual Barrett-Jackson car auction. Included in those thousands were enthusiasts of another kind – child enthusiasts, health enthusiasts and vision-for-the-future-enthusiasts.
Those unique enthusiasts were all part of a superstar team from Loma Linda University Children's Hospital (LLUCH) who made the jump over state lines to represent the hospital.
What does a hospital for kids have to do with cars?
A 1930 Cord L29 had been gifted to LLUCH by Inland Empire couple Carlton and Raye Lofgren and was auctioned off as one of the charity cars at Barrett-Jackson for $300,000, all of which will benefit LLUCH.
The Cord was one of seven charity cars in the annual auction, and sold for the second highest amount, thanks to the generosity of one Northern California couple who purchased the car.
The funds will go toward Vision 2020, the philanthropic campaign supporting the construction of the new Children's Hospital tower.
Courtney Martin, DO, an OB/GYN at LLUCH, along with her former patient Brittany Stuit, her husband Ryan, and their quadruplets, took to the stage during the auction encouraging potential bidders by stating how special the hospital is, serving over 1.3 million children in California.
"We need you today," Martin exclaimed. "If you bid on this car you stake a claim in the future of all these children that have yet to walk in the hospital. So we ask that you will play a part in the Vision 2020 campaign building our new hospital."
Martin passed the microphone over to Mrs. Stuit, who was in the hospital for over two months before her quads were born.
Praising the hospital she said, "When I hear the words 'Loma Linda' I can't even begin to explain to you how important they are. Their staff became my family. If it weren't for Loma Linda I wouldn't be a mom. They made all of my dreams come true."
Steve Davis, president of Barrett-Jackson, then took the microphone, but only after he had already temporarily inherited one of the quadruplets, Lucas, as he presented the Cord L29 to the crowd of thousands of auction-goers.
"At the end of the day the Cord is special," Davis stated. "Give from your heart, not from the wallet."
The Lofgrens were also on stage when the hammer price was announced, "We are very excited about the result," Mrs. Lofgren said. Her father purchased the vehicle in 1982 and it had been part of their family ever since. The family however, discussed the decision to donate the car to LLUCH for the auction and they all agreed it was a positive thing.