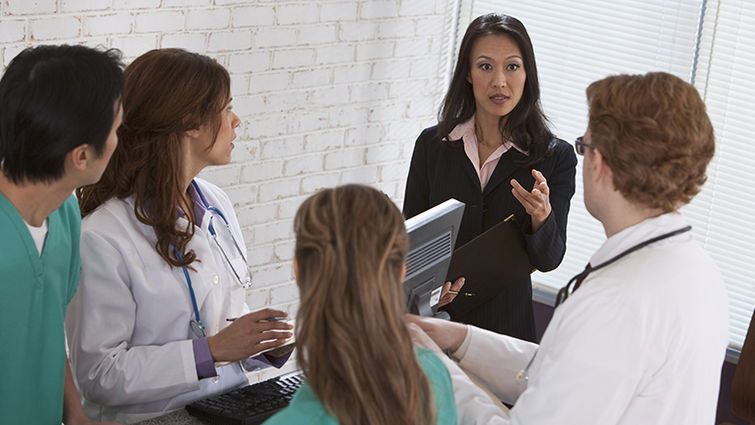 The federal HRSA grant will enhance whole person care for patients of SAC Health System in San Bernardino while creating a pipeline of providers for the underserved.
A substantial new grant will help low-income patients by further integrating behavioral health with medical training at SAC Health System in San Bernardino.
The U.S. Health Resources and Services Administration awarded the $2.4 million grant to Loma Linda University School of Medicine to conduct a collaborative project between the school's department of family medicine and the School of Behavioral Health's department of psychology.
The grant will allow the creation of interprofessional high-risk teams of nurses, family physicians, psychologists and pharmacists to support patients who are the most vulnerable for poor health outcomes, integrating behavioral health as needed in all outpatient clinic visits.
"For example," says principal investigator and professor Kelly Morton, PhD, "if a patient has uncontrolled diabetes, they are at risk for stroke, heart attack, loss of vision and limbs. If they are also depressed, it will be difficult to make progress with medication adherence and lifestyle changes needed to prevent these complications.
"With this integrative team approach, we can examine the whole person and determine the best program referral or visit type to help the patient work with us to achieve health and wellness over time."
Among chronically ill patients there are inevitable behavioral issues that must be considered.Dr. Roger Hadley
While this grant will help patients, it will also create a sustainable pipeline of family medicine physicians and primary care psychologists who can work together to improve mental and physical health in the same clinical setting. This pipeline is particularly important in the Inland Empire, which has a shortage of physicians as well as medically underserved populations of patients.
The project, called IMPACT,* will create this sustainable pipeline of family physicians and primary care psychologists by:
• training medical and psychology students from Loma Linda University to improve behavioral health integration workflow;
• training family medicine faculty and residents and medical/psychology students in team communication and leadership skills to manage patient populations with a well-functioning interprofessional team; and
• creating two service learning tracks for medical and psychology doctoral students including didactics, mentoring and placement at a federally qualified health center to provide care for the underserved in our region.
"Five percent of our nation's population consumes 50 percent of the health care costs and resources," says Roger Hadley, MD, dean of the School of Medicine. "Among these chronically ill patients there are inevitable behavioral issues that must be considered in their management. The most effective way to treat these complex cases is to work collaboratively with the different health care professions."
"This grant provides an expanded opportunity for the department of psychology to work with the department of family medicine in an integrated health model to serve the patients at SAC Health System," says Beverly Buckles, DSW, dean of the School of Behavioral Health. "The stipends that will be provided for students will be a tremendous help in financing their graduate education."
---
*Integrated Medical-home for Patients: Access, Cost and Targeted Management