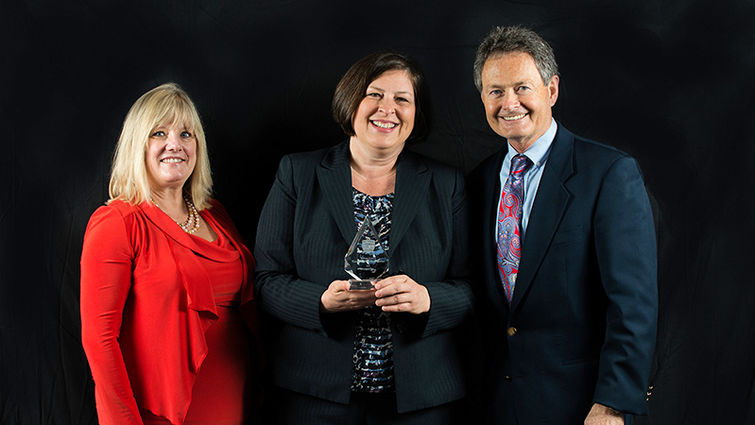 There are many expectations placed on physicians. They are expected to be warm and compassionate, sympathetic listeners, healers and—in some cases—miracle-workers who work tirelessly to relieve the suffering of the world. But who supports the physician?
On April 13, Loma Linda University Health was recognized for excellence in its support of physician well-being. Barbara Couden Hernandez, PhD, director of physician vitality, was on hand at the annual Coalition for Physician Well-being conference, held in Ponte Vedra, Florida, to accept the Medicus Integra award on behalf of the organization.
"The award is similar to a Magnet designation for excellence in nursing," Hernandez explains, "recognizing an organization for its attention to well-being as well as excellence in practice for physicians."
The Medicus Integra award specifically focuses on four key areas of organizational programming: physician resilience, the learning environment, business and quality, and culture.
She continues, "We are one of four hospitals that received the award, and we consider this to be a significant honor."
Loma Linda University Health leaders have invested in physicians through a number of programs and administrative structures to enhance the workplace environment and incorporate principles of whole person care.
Many of these programs and structures may not be obvious, but they contribute in significant ways to patient safety and satisfaction, as well as employee engagement.
For example, most well-functioning hospitals are characterized by patient safety policies and measurements, collaborative decision-making, continuing medical education, effective communication across the organization, and programming dedicated to enhancing resilience.
An initiative for supporting physician well-being began five years ago with the appointment of Hernandez as director of physician vitality. She previously worked for 20 years as an intensive care unit nurse, then went on to direct psychotherapy clinics and teach graduate-level courses in several mental health disciplines.
Her current role in supporting physicians consists of resilience education and programming, research, and consulting. She is available to support physicians and residents as they deal with the pressures and issues facing them—both on the job and in their personal lives.
The efforts of Hernandez and the many other administrators and programs involved in physician resilience were recognized for excellence by the Medicus Integra award designation.
The Coalition for Physician Well-being, according to its website, is "an alliance of faith-based, mission-focused health care systems, hospitals, professional organizations, and individuals, organized for the purpose of learning, networking, resourcing, facilitating, consulting, research, and innovating."
The coalition was organized in 2011 with an interest in promoting physician well-being. Member representatives come from Adventist Health System, Catholic Hospital Association, Hospital Corporation of America, Loma Linda University Health Care, and Lumunos.
Together, these organizations seek to promote the personal and professional fulfillment of physicians, supporting them in their family and professional relationships, encouraging teamwork and collaboration, and ultimately enhancing hospital culture while at the same time improving safety, quality, and humanity of patient care.
The coalition promotes well-being by "pursuing physician wholeness, which we understand to encompass physical, mental, social, and spiritual health, and which supports the embodiment of our work as a ministry of healing."
"I was proud to accept the Medicus Integra award on behalf of Loma Linda," Hernandez shares. "We've spent a great deal of time defining and applying the principles of wholeness to our physicians, and now others have noticed."
To contact Hernandez at the office of physician vitality, call 909-558-6780 or extension 66780, or email bhernandez@llu.edu.