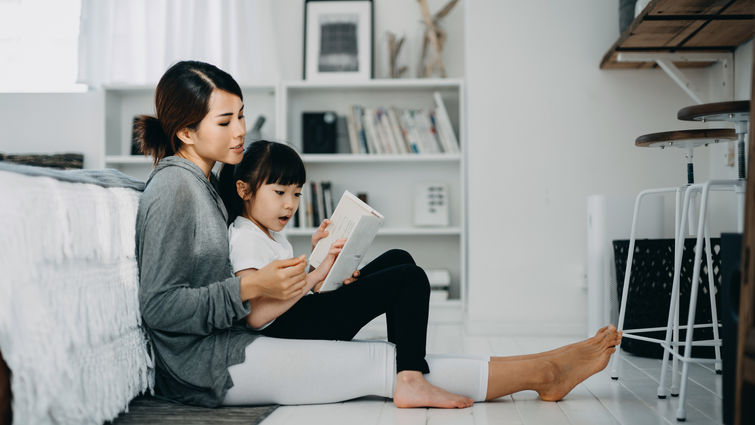 The COVID-19 pandemic, with its ongoing strain and uncertainty, continues to affect the overall wellness of kids.
According to experts at the Centers for Disease Control and Prevention, those during their developmental stage, such as kids, face challenges and trauma due to "changes in routine, breaks in the continuity of learning, breaks in the continuity of healthcare, missed significant life events, and lost security and safety."
As parents care for their child's physical safety from the virus, it's important to also keep their emotional and mental health and wellbeing in mind, says Francis Chan, MD, service chief for pediatric medicine service at Loma Linda University Children's Hospital and chair for the department of pediatrics for Loma Linda University School of Medicine. He provides some guidance below.
Be honest with your child about the situation
Not telling your child what is happening with the pandemic may create more stress. Instead, tell them the truth with information that's appropriate for their age and levels of understanding. Guide them to books or websites that present COVID-19 in a kid-friendly manner. For example, Chan suggests this website with resources provided by the American Academy of Pediatrics. 
"It may be helpful to limit and monitor what your child sees on the news and on social media where discussions about the pandemic are between adults," Chan says. 
Let your child know you are available to answer their questions or discuss their concerns.   
Develop a routine 
With the pandemic causing instability, Chan says it's essential to keep a child's environment as stable as possible. Creating a predictable routine can help. Children, particularly young ones, have certain expectations — they want to wake up, eat, have fun, interact with their environment, and go to sleep, says Chan. "But if their environment is constantly changing, their emotional wellbeing and development will regress," he says. 
Implementing constants such as regular times for meals, bed, play, and learning can help support a child's sense of safety. 
Be cautious of screen time
While technology can be an important bridge between families and loved ones, Chan says, to not let your child stay cooped up in the home for most of the day staring at a screen. "If possible, cultivate safe social interactions — for example, meeting friends or family outside," he says. 
Focus on the things you can control
This pandemic may not only be stressful for your child. Parents face stress as they try to navigate uncertainties while keeping their child mentally and physically safe. With so many factors outside one's control, Chan encourages parents to focus on what they can control. 
"Some of these things regarding your child's safety include getting them vaccinated when they are eligible, emphasizing their nutrition and providing a well-balanced diet, if possible, ensuring they are not deficient in their vitamins such as vitamin D, teaching them the importance of handwashing, and keeping them home if they are sick," Chan says. 
Keep your child up-to-date on their well-checks
Chan says timely well-check visits allow physicians to give kids their regular childhood vaccines and screen for physical and mental health conditions. "We need to make sure that children are developing appropriately," he says. 
Talk to your child's doctor if you're seeing signs of emotional stress and developmental regression, such as wetting the bed, being overly irritable, or socially withdrawn. 
In particular, with the current variant, Chan says families may be reconsidering activities they were doing just a few months ago. He cites shopping at the mall, going to a movie, or eating at a restaurant as examples. Chan says risk evaluation is a good way for each family to decide what they will or won't do. 
"For activities that aren't required, parents should consider the chances of their families getting infected with the benefits of the activity," he says.  
Don't hesitate to reach out to your pediatrician if you have questions or concerns about your child's wellness. Call or visit our website to make an appointment.