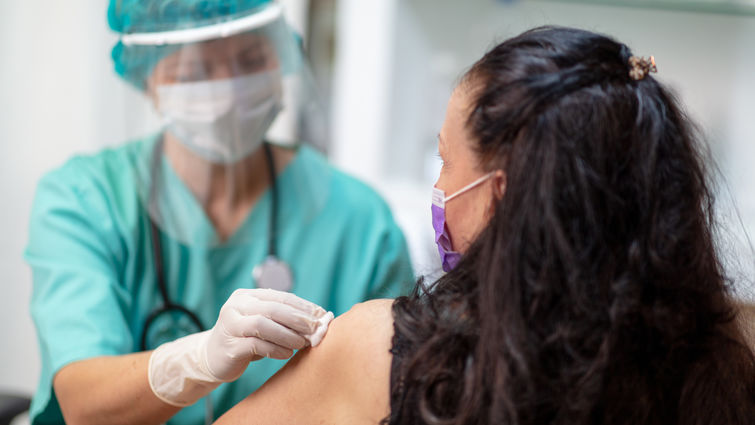 Getting vaccinated is more important now than ever. In addition to the COVID-19 pandemic, kids are going back to school in-person and virtually, and flu season is right around the corner.
Jennifer Veltman, MD, chief of infectious diseases at Loma Linda University Health, says research continues to show that vaccines are safe. "It's important to get vaccinated if you can. Widespread vaccination helps protect communities from outbreaks."
Veltman urges adults and kids to get their scheduled vaccines, and here's why:
We are still in the middle of a pandemic
Influenza is a deadly virus that has many — but not all — of the same symptoms of COVID-19. While there isn't yet an approved vaccine against COVID-19, there are protective vaccines against influenza and other infectious diseases.
In any given year, nearly half of the U.S. population is vaccinated against the flu, which has a tremendous impact of decreasing the number of cases and deaths from the virus across the country.
"If we let our guard down this year because of COVID-19, we will see a spike in flu cases and increased deaths," Veltman says.
Not only is the flu vaccine beneficial to individuals to reduce their risk for illness, hospitalization and death; it is also beneficial for the healthcare system.
"The fewer resources we utilize for influenza care, the more resources we have available to care for those infected with COVID-19 and other life-threatening conditions," Veltman says.
In school or at home, kids still need their vaccines
Even though children may not be back in school, households are likely not in complete quarantine any longer. While physical distancing and masks are still recommended, as we see with COVID-19, respiratory viruses are still spreading. 
"Children often do not have natural immunity from past infections and are therefore at higher risk of severe disease," Veltman says. "When you vaccinate your child you also protect vulnerable groups, such as infants and people with weakened immune systems."
According to Veltman, vaccination is the best way to protect children from severe illness and has the added benefit of decreasing spread to others, especially since many small children struggle with frequent hand hygiene and covering their mouth when coughing.
Veltman emphasizes that postponing childhood vaccinations puts kids and communities at risk of serious preventable diseases and urges parents to stick to the recommended vaccine schedule, especially during the COVID-19 pandemic.
Adults are not immune
Per CDC guidelines, immunizations are not just for kids. Lifestyle factors, age and travel can impact one's risk for vaccine-preventable diseases. Adults 18 and older should get the Tdap vaccine every 10 years as well as a seasonal flu shot every year.
Flu vaccines typically become available in October, which doctors say is the ideal time to get vaccinated. However, as long as flu viruses are circulating, vaccination should continue, even as far into January or later, as the flu season can extend into the later winter and early spring months.
New for this year for adults under age 65, is the availability of a quadrivalent high dose flu vaccine. In the past, individuals had to choose between a higher dose vaccine with protection against three influenza strains or a lower dose vaccine with protection against four influenza strains. This year, a quadrivalent high dose vaccine will be available, increasing the amount of protection the flu shot will provide.
Loma Linda University Health wants to care for everybody in the community, and Veltman says getting vaccinated is the first step.
To learn more about what you can do to protect yourself and your family during the flu season, visit our flu page at lluh.org/flu. Loma Linda University Health Primary Care and Urgent Care locations are available for in-person or virtual visits. Appointments can be made quickly and easily online at MyChart or by calling 909-303-9939.