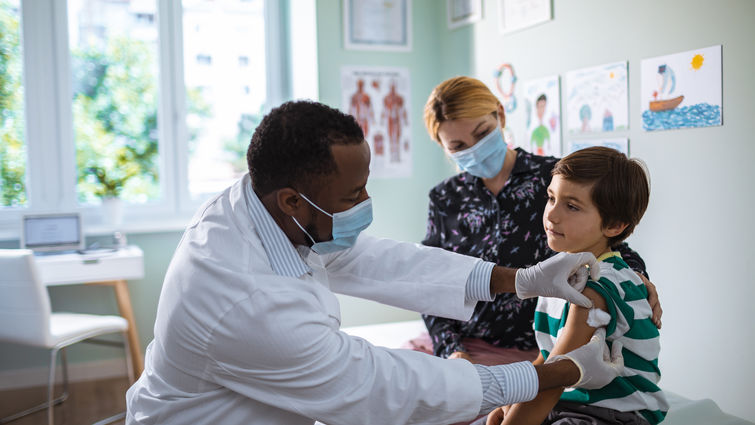 We are still in the middle of the COVID-19 pandemic and now flu season is upon us. Your child isn't feeling well and you're wondering, is it COVID? Is it the flu? Should I take my child to the hospital?
Maulin Soneji, MD, attending pediatric infectious disease specialist at Loma Linda University Children's Hospital, offers some tips to parents on what to know this flu season.
Flu vs. COVID-19
The Centers for Disease Control and Prevention (CDC) say the flu and COVID-19 are both contagious respiratory illnesses caused by different viruses. Because they're both respiratory illnesses, many of their symptoms overlap and are harder to differentiate.
Flu symptoms are generally fever, chills, cough, a runny nose, muscle aches and body aches. However, Soneji says not all pediatric patients present with these symptoms. "Depending on if they're teenagers, their symptoms will be more like adults," he says. "Younger kids often just have a fever and cough or a runny nose and fever."
One of the concerning factors this flu season is how similar symptoms can be, Soneji says. "Most kids and adults with COVID-19 present with cough, fever, and shortness of breath," he says. "This year, when parents bring their kids to the hospital with these types of symptoms, we're likely to test for both flu and COVID-19 due to the symptom overlap."
Soneji says the heightened handwashing focus and wearing of masks may be helpful in combatting flu this season.
How to protect your child from both the flu and COVID-19
Soneji says the best way to keep your child safe from the flu is to get vaccinated. "Flu vaccines are like wearing a seatbelt during a car accident," he says. "A seatbelt won't stop me from getting into a car accident, but if the accident happens, it will protect me from many more serious outcomes."
The flu vaccine won't stop every case of the flu, but Soneji says it helps to protect children and adults from many serious issues or continued illness caused by the flu. "I would highly recommend that if your child is able to get the vaccine, they get it," he says.
While there are currently no vaccines to combat COVID-19, Soneji says there are other ways to help protect your child.
Avoid close contact with others not in your immediate family group, especially those who are sick.
Wear masks when in public spaces and areas where physical distancing isn't possible.
Cover your mouth and nose when coughing or sneezing.
Clean your hands often using soap and water or an alcohol-based sanitizer.
Avoid touching your eyes, nose or mouth to limit the spread of germs.
If your child has symptoms, when should you take them to the hospital?
"Anytime a parent is concerned, they should reach out to their pediatrician," Soneji says. "Your pediatrician will be happy to answer your questions and clarify if you need to bring your child in or wait and watch for other symptoms."
Soneji says parents should seek immediate medical care if their child's symptoms are lingering, are seemingly getting worse or if their child is breathing rapidly or having trouble breathing.
The CDC also suggests seeking medical care for a child if they have a continued high fever, bad headache, sore throat, confusion, severe belly pain, chest pain or pressure, issues staying awake, or are turning blue in the face.
During the continued pandemic and the upcoming flu season, your child's health and wellbeing are top priorities here at Loma Linda University Children's Health. Physicians can see children safely, either in-person or via video visits. Reach out to your care provider via MyChart if you have concerns or call 800-825-5437.