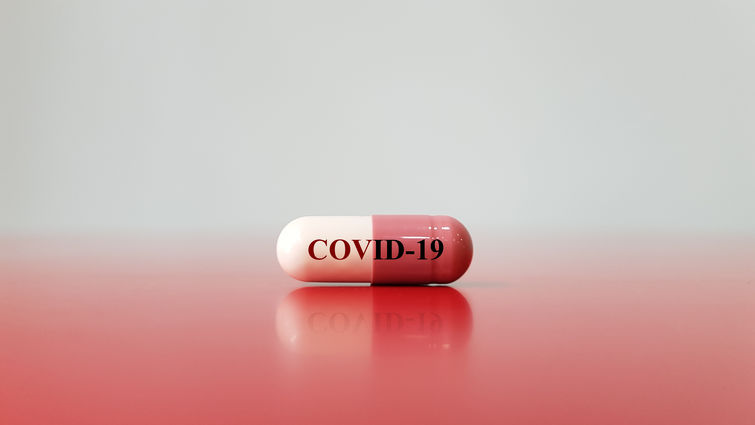 The Food and Drug Administration issued emergency use authorization for Pfizer's Paxlovid (nirmatrelvir) Dec. 22 for individuals 12 years or older. The prescription outpatient medication will prevent the replication of COVID-19 in patients who have tested positive, but it must be taken right away, infectious disease expert Jennifer Veltman, MD, says.
What do we know about Paxlovid?
Paxlovid is a five-day series of antiviral oral tablets that prevent replication and halt further damage to tissue when taken early in the disease.
The COVID-19 infection has two phases: replication and inflammation. Paxlovid must be taken during the viral replication phase which is generally thought to be within five days after symptom onset. It's essential to seek treatment immediately, because once the inflammatory stage occurs, it's too late for the pill to fight the progression of COVID-19, the damage has already been done.
Does it work?
Pfizer clinical trials showed a nearly 90% decrease in hospitalizations in patients with risk factors, and a 70% decrease in those with no risk factors when taken within five days of symptom onset.
"Studies are ongoing but, this likely means that treatment with Paxlovid will reduce transmission to household contacts and has the potential to have tremendous public health benefits if it is widely used early on," Veltman says.
Veltman believes that Paxlovid will be more effective at fighting variants than the previously approved monoclonal antibodies because the monoclonal antibodies work by attaching to the outer spike proteins and those spike proteins continue to change with each new variant of the virus.  Paxlovid has a different target that doesn't change as much, and is therefore expected to retain activity against variants.  It is also much easier to administer than the monoclonal antibody infusions because this is just an oral tablet, not an IV infusion.   In clinical trials Paxlovid appears to be just as effective as monoclonal antibodies. 
How is LLUH planning to support this new medication?
Loma Linda University Health providers will receive training and hope to accommodate same-day virtual appointments, e-appointments, or urgent care visits to provide Paxlovid prescriptions within the five-day replication period. Veltman urges the community to get tested on the first day of symptoms due to the need to start quickly after symptom onset with this new treatment.
Keep your other medications in mind.
Paxlovid inhibits enzymes that break down certain drugs in your liver. To be safely prescribed the antiviral tablets, consult with a doctor and tell him or her what medications you are currently taking, including herbal supplements.
When will Paxlovid be available?
Now that Paxlovid has been granted emergency use authorization, the federal government will begin sending portions of its national stockpile to states to disperse.  Veltman says she is hoping to start seeing Paxlovid available in the first few weeks of January. It is not yet known which pharmacies will be given allotments. In the meantime, LLUH will continue to offer monoclonal antibody infusions through the emergency room for those early in their disease course and whom have risk factors for severe disease. 
For more information on Paxlovid, contact your doctor and utilize county testing sites or home-based testing at the onset of COVID-19 symptoms.