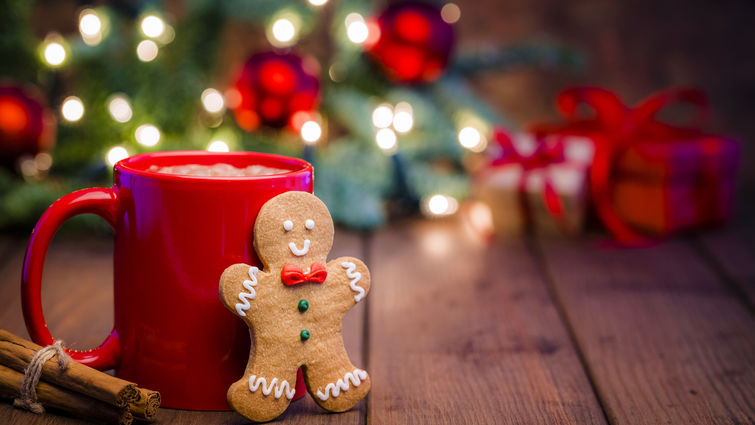 It's the most wonderful time of the year, and you know what that means — baked goods, creamy soups, sweet beverages, and potlucks galore. The four weeks between Thanksgiving and Christmas bring the opportunity for quality time with loved ones and often overindulging in food. Cory Gheen, MS, RD, assistant professor of Nutrition and Dietetics and Chef at Loma Linda University Health School of Allied Health Professions offers these simple nutrition hacks to enjoy the holidays without sacrificing your waistline.  
Moderation & Portions are key
One of the most obvious steps we can take to be healthy during the holiday season is to eat in moderation, yet it can be the most difficult step because of the excess temptations to enjoy. Whether it's an office potluck or a cookie exchange, Gheen says it's OK to want to sample all the food — you just need to be mindful of how much you plate.   
"If you want to sample a variety of food, serve yourself half as much as you normally would of each dish," Gheen says. "By doing that, you're watching your caloric intake and you're more likely to eat the amount of food you normally would."
Gheen says plate control is essential to maintaining your health during the holidays. He says a helpful trick can be to avoid filling your plate full so you can pace your intake around your appetite. He notes it's also OK to not finish your plate. 
"We know from menu psychology that if someone fills their plate they think they have to clean it," Gheen says. "Your intention should be focusing on making sure you're full without overextending. So take half as much and go back if you do want more."
Cut unwanted calories with smart swaps that you'll enjoy
Be it that latte you purchased on your way to work, those candies you snacked on during lunch, or that delicious homemade squash soup you made — the winter season is abundant with foods that are full of excess sodium, sugar and calories. Gheen says the trick to avoiding overindulging is accounting for the unknown and swapping out where you can. Here are few swaps Gheen recommends:
Reduce consuming milk dense beverages such as egg-nog, latte, hot chocolate and mocha. Instead, replace it when possible with tea. If you have a sweeter tooth, juices such as cranberry or apple mixed with 50% water and warmed can be satiating. 
Bypass unneeded breads and fat. For example, if you're enjoying a winter staple such as tomato soup, swap out the grilled cheese for a small handful of cheese crackers. The same flavor combination will be achieved with fewer calories. 
When serving rolls, swap the traditional white-based breads for wheat or multigrain served warmed. Serve without butter or with hummus for an extra calorie save.
Traditional gravy sauce includes roux, which is half fat and half flour. Cut the fat down by using cornstarch as a thickener instead for a rich glaze.
Appetizers are always a party favorite! Improve your guests' experience by swapping out heavy cheeses and pastries with an acidic snack such as pickles, olives, fresh veggies or fruits — all of which will stimulate the appetite and cut down the calories. 
Limit the fats of your mashed potatoes by swapping the butter or heavy cream in your mashed potatoes for vegetable stock or fat-free milk.
Making a chili or bean soup? When working with ingredients such as beans, lentils, grains and potatoes, avoid seasoning with salt for taste until the last 20 minutes of cooking. If added earlier, the salt is absorbed and can't be tasted — becoming hidden, unwanted sodium. 
Rethink culinary traditions and make the meal your own
The holidays are notorious for tradition. Gheen says people are used to eating from tradition instead of interest, and it's not uncommon for families to cook the same meals year after year. 
"I hear it all the time, so and so always made it this way so I have to do it the same," Gheen says. "But that may not be  true. A part of making traditions is reconsidering old ones and updating. So I encourage families to consider why they make a meal a certain way and explore if there is an alternative that is just as acceptable and healthy."
In that spirit, here are a few healthy hacks Gheen recommends to some of your favorite holiday dishes:
Side dishes like green bean casserole are a staple for most households. You can healthy hack this dish by steaming the green beans and tossing them with crunchy onions or toasted nuts and a light dressing for a satisfying replacement to accompany your protein. 
Got a thing for cranberry sauce? You're not alone! While difficult to make perfectly healthy, you can cut the granulated sugar down and swap for apple juice concentrate. This will give you the sweetness without the refined product.
Break up the potatoes, stuffing and casseroles by bringing fresh greens to the table. A salad or hardy winter greens like cabbage, broccoli, and kale will add health and flavor to your meal.
Love pie? We all do, yet it's difficult to make pie healthy. If you want to give it a go, Gheen recommends going crustless to cut down the fats from the butter in the crust. try serving as a crumble instead. He also notes that reducing sugar or eggs can change the consistency of your custard pies, like pumpkin, so he doesn't recommend cutting down on those items. If eating custard pie is something you love, his tip is simply to watch your portion size and enjoy as is or with only a tablespoon of whipped cream
With the holiday season here, eating healthy can feel arduous. Gheen's key takeaway? "The holidays are about being with family and enjoying festivities, so it's OK to indulge a little. The key to enjoying it is being aware of not going too far, while taking advantage of every opportunity to build your meals in a healthy way."
To learn more nutrition tips or try out quick, wholesome meals, check out Chef Cory Gheen's recipes on the Loma Linda University School of Allied Health Professions' online cooking show "Live It: In the Kitchen."