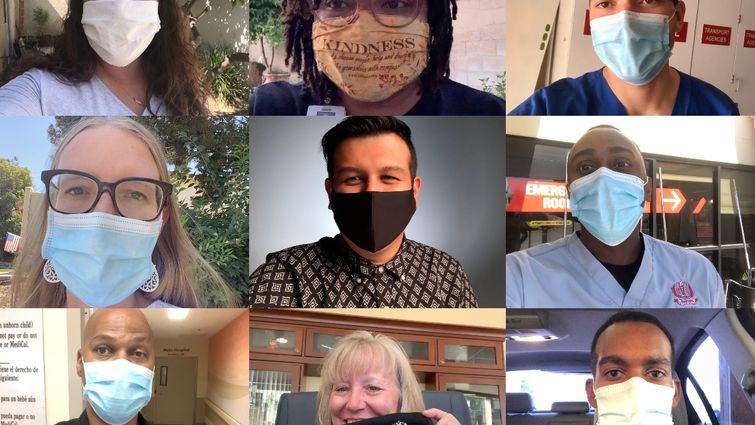 As society makes moves to reduce the spread of COVID-19, many states — including California — are now requiring people to wear face coverings in most public spaces. Guidance from both the Centers for Disease Control and Prevention and the World Health Organization now recommend wearing masks in public, a stark difference from the original recommendations from the organizations.
"Advice is updated as we learn more about this new virus," says Jennifer Veltman, MD, chief of infectious diseases at Loma Linda University Health. "The evidence is now clear that masks help slow the spread of COVID-19." 
In addition to the evidence that wearing a mask is effective in preventing COVID-19, Loma Linda University Health employees have additional reasons for wearing their masks.
Tamara Thomas, MD, executive vice president for Medical Affairs and dean of the School of Medicine, says she wears her mask because you matter, her family and friends matter and our community matters.
Dilys Brooks, MDiv, campus chaplain, wears her mask because she sees that "we are in this together."
Eric Manjarrez, audiovisual technician, says he wears his mask to do his part in slowing the spread of the virus.
Derek Glatts, chaplaincy student and EMT, wears his mask because he works in a high-risk environment and doesn't want to put others at risk because of his exposure.
Helen Staples-Evans, DNP, RN, NE-BC, senior vice president of care services and chief nursing officer, says, "I wear my mask to keep you safe."
Whatever your reason, wearing a mask is the best way to slow the spread of the virus and keep your community healthy, Veltman says. "Not only does a mask significantly reduce the respiratory viruses emitted in droplets or aerosols, but it's a non-verbal way of showing the people around you that you care," she says. "Masks are the best way for people who have COVID-19 — either wittingly or unwittingly — to avoid giving it to other people."
To learn more about how to properly clean your mask, ways to help your child adapt to wearing a mask or other coronavirus information, visit lluh.org/coronavirus.