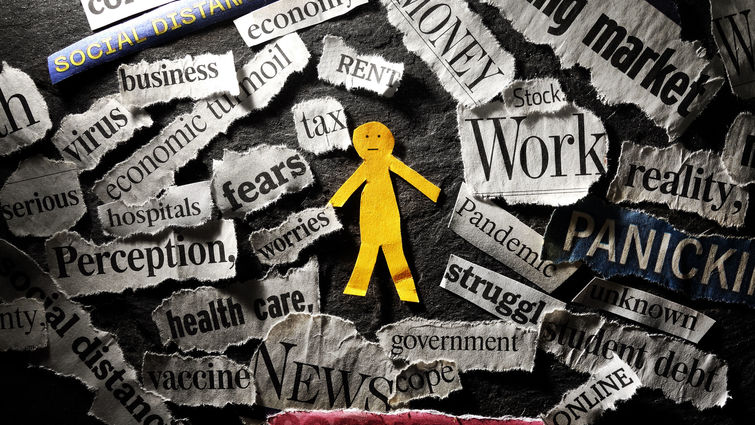 Collective trauma will likely be a global issue post-pandemic, leading psychiatrists like Melissa Pereau, MD, to prepare for what she says could be an eventual mental health crisis. The medical director at Loma Linda University Behavioral Health is no stranger to helping patients with post-traumatic stress disorder (PTSD).
"After a traumatic event, the individual often has an increased sense of fear and vulnerability," Pereau says. "When felt on the community level, people may question the identity or even future of their society as a whole."
Pereau says that because of the nature of collective trauma, it can be challenging to draw clear conclusions on the long-term effects on individuals and society.
Not all traumas are felt equally
Even when each group is fighting the same fears and anxieties in some way, Pereau says the trauma can impact each group differently. "We're fighting the same battle, but we may not all have equal weapons to fight back," she says. "Trauma can be compounded when there is a build-up of multiple traumas.
Depending on perspective, people who lived through trauma may form specific views of not only an event like COVID-19 but everything surrounding it. "If people aren't careful, they may form unfairly negative views of things surrounding the initial trauma," Pereau says.
Isolated physically and socially
In addition to the fear of illness, isolation and quarantine can lead to several adverse psychological effects, including confusion, anger, and even PTSD, Pereau says. "Our lives have been significantly disrupted, and the effects of social isolation on mental health are severe," she says.
Coping with the stress
First, Pereau says it's important to remember that you are not alone. She recommends trying these strategies to cope with the stress:
Step away from the negative news and social media. Instead, take time to mindfully acknowledge the positive things in your life.
Keeping your whole body healthy will make a significant impact on your mental health. Your brain is a part of your body, and when your body is working better, your brain will too. Get enough sleep, exercise, eat well, and avoid excessive alcohol and substance use.
Find things that make you happy. Talk to others on a video chat, schedule a virtual game night, take up painting or gardening, or learn a new language. Make time for things that bring you joy.
Visit our behavioral health services website and learn more about how Loma Linda University Behavioral Medicine Center can help you. Request information on a diagnosis or treatment or any behavioral health concerns, and one of our intake coordinators will contact you.
If you or someone you know is in a life-threatening crisis now, seek help immediately. Call 1-800-273-TALK (8255) to reach a 24-hour crisis center or dial 911 for immediate assistance.