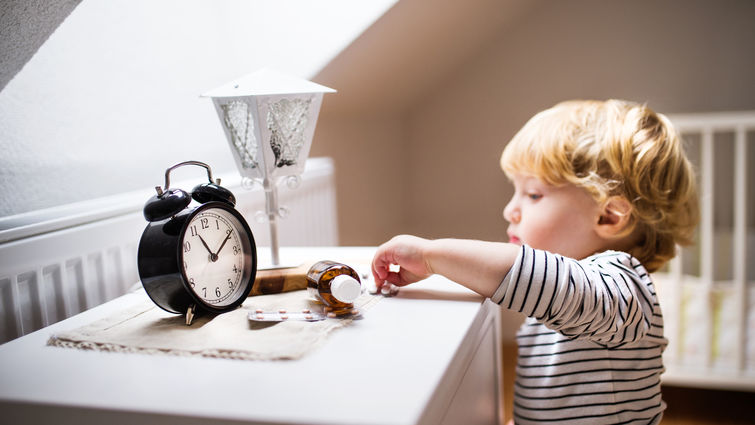 While many kids are doing school at home during the ongoing pandemic, many parents are busy juggling teleworking and monitoring their children. Poison Prevention Week is an important annual reminder to remember how quickly a child's curiosity can turn deadly. 
According to Safe Kids Worldwide, poisoning is the third cause of unintentional death among kids ages 1-19.
Michelle Parker, Safe Kids Coordinator Inland Empire at Loma Linda University Children's Hospital, reminds parents that while it's extremely important to keep their cleaning products stored away out of a child's sight and reach, several other poisonous household items may be forgotten.
Medications
"Medications are one of the biggest poison issues that we have with our pediatric patients," Parker says. "Kids will accidently ingest medication that isn't theirs in quantities that are dangerous."
Parker encourages parents to put all medicines away after every use, securing medicine caps, and placing the bottles where children can't access them by mistake. She says moms should also be aware of their purse accessibility if they keep medications in their bags.
"Parents should also refrain from calling medicine or vitamins 'candy' or 'treats,'" she says. "While that approach may help them take the medication or vitamin more easily when they're supposed to, it could confuse the child and entice them to seek out the 'treat' later on."
Batteries
"Battery ingestion can cause terrible injuries," Parker says. "A small button battery can burn through a child's esophagus in two hours and require surgery."
These types of batteries should never be left sitting out. Additionally, parents should become aware of the household devices with batteries that are easily accessible to children, such as remote controls, keyless car fobs, garage door openers, toys, watches, greeting cards, children's books, and more. 
Carbon Monoxide Emitting Appliances
"Because it's been cooler in recent months and with the pandemic, people may be trying to save money while still heating their home," Parker says. "They may be going without using a conventional heater and instead using gas grills, wood-burning furnaces, space heaters, etc.
According to the Poison Control, carbon monoxide gas is produced when fuel, such as gas, kerosene, wood, propane, and natural gas burns. High levels of carbon monoxide are deadly and low levels may still be extremely harmful.
Because carbon monoxide is colorless and odorless, Parker says carbon monoxide alarms must be installed near the sleeping areas of people's home. Appliances such as ovens and stoves, furnaces, water heaters, clothing dryers, space heaters, and fireplaces should also be inspected regularly. These precautionary steps could save the lives of not only children but the entire family.
Parker recommends parents keep Poison Control's number in their phones in case of an accidental poisoning — 1-800-222-1222. Help is also available online.
Visit SafeKids online for more safety information on poisoning to keep children of all ages safe and healthy at home.