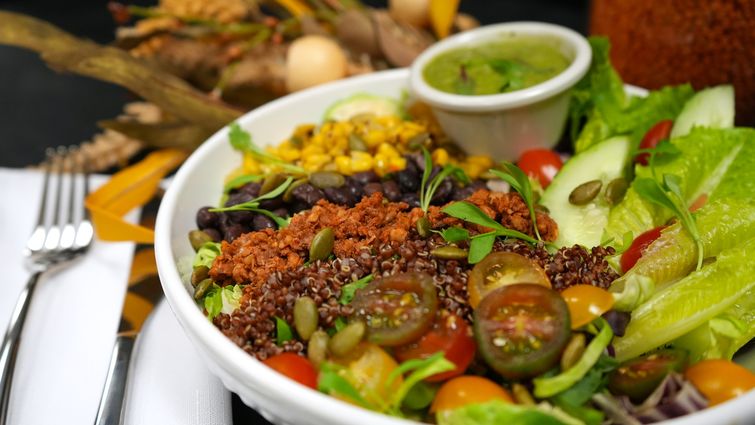 Loma Linda University Health is now serving therapeutic meals to certain inpatients, the first initiative in the nation to use nutrition as a treatment in an inpatient setting and one that administrators hope will spread throughout the healthcare profession.
While Loma Linda University Health has long served healthy meals to its inpatients, this is the first initiative that goes a step further to provide meals that are classified as "therapeutic."
The initiative, therapeutic menu development of Whole-Food, Plant-Based or WFPB dining choices, was launched in September by a team led by April Wilson, MD, MPH, FACPM, chair of Preventive Medicine for Loma Linda University Health. She developed the program over several years with grant support after a rehabilitation doctor seeing stroke patients told Wilson he wished he could call a nutritionist consult the same way he could order other consults for his patients.
"It makes no sense for a doctor to perform a stent for a cardiac patient and then give that patient a burger and fries for their next meal after the procedure," Wilson said. "We're trying to take the latest evidence-based findings of nutrition to the next level of implementation so patients don't have to come back to a hospital."
Loma Linda University Health has prioritized nutrition since its foundation, and Wilson said she and other leaders are aiming to build on that legacy by changing the culture of nutrition within healthcare and sharing research findings with other institutions.
Wilson said nutrition education has been more of a priority in outpatient settings but rarely in inpatient settings apart from study participants living in a residential setting or controlled facility during the research process.
Poor nutrition contributes to high cholesterol, type 2 diabetes, high blood pressure, and cardiovascular disease, and is a primary contributor for most chronic conditions that necessitate a hospital stay, Wilson said.
"When hospitals serve unhealthy meals, it sends the message to just rely on medication and don't worry about nutrition. That message is absolutely not true in the vast majority of cases," Wilson said.
Chronic disease needs to be addressed at the root-cause level, and nutrition is a crucial part of that, Wilson said. Evidence shows that poor nutrition has exceeded tobacco use as the leading underlying cause of death, she said.
Hospital meals must meet regulations for nutrients and regional cultural relevancy. That's one reason why many hospitals serve foods that are highly processed and contain high amounts of sugar and fat. These meals are also often more shelf-stable and easier to prepare. Loma Linda throughout its history has offered vegetarian meals while still meeting health code requirements.
The WFPB initiative's menu items include a tomato and bean chili with cashew crema sauce, accompanied with cornbread; sandwiches with whole-grain, low-processed bread, hummus, cucumbers, and tomatoes; an entrée of roasted sweet potatoes and chickpeas; and breakfast includes oats with chia seeds and farro, and a spinach and tofu scramble.
The Ardmore Institute has donated a total of $400,000 in grants to help launch this initiative.
Therapeutic meals are now available in the adult Medical Center, one of six hospitals throughout the Loma Linda University Health system. Administrators plan to eventually offer the meals at all inpatient facilities.