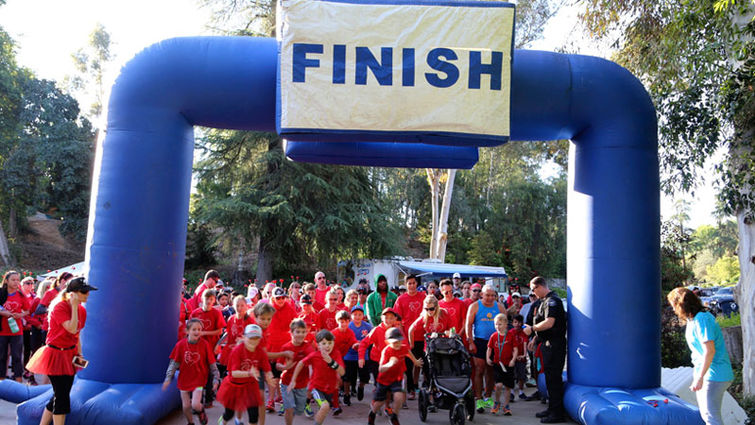 The 2nd annual Family Fitness Fun 5k and Expo, which was held Sunday morning, April 3, at the historic Burrage Mansion in Redlands, was called "a rip-roaring success" by Dixie Watkins, co-president of the Big Hearts for Little Hearts Loma Linda Guild, sponsor of the event.
"It was just amazing," Watkins reported. "The weather was perfect and lots of people came out to join in the fun. Best of all, lots of children attended and had a great time."
The event—which combined fitness activities such as the 5k run, an obstacle course and other games for the kids with a mini health fair with 29 exhibitors—was created, Watkins said, because the guild wanted to encourage families of the Inland Empire to take proactive measures to protect their health.
"The guild exists to raise awareness and funds for Loma Linda University Children's Hospital," she noted. "And while Children's Hospital does a great job of taking care of sick children, we wanted to encourage people in our community to get involved in health and fitness to help them stay healthy."
According to Penny Moores, treasurer of the organization, there was a significant upturn in the number of participants this year.
"Last year, we had a total of 163 people turn out to take part in the race," she noted, "but this year the number leaped to 229, including five who signed up online this morning and a number of walk-ins. That's a 40 percent increase over last year."
One big reason for the hefty increase was the fact that radio station KFROG 95.1 and 92.9 FM ran a series of public service announcements throughout the days prior to the event. Moores said she happened to be online checking the guild email inbox as one of the KFROG announcements aired, and within moments, several people had signed up. KFROG manned a booth with three on-air personalities at the event.
Before the run began, Adriana Plaza Cutler of Atelier Fitness Studio and Charlie Cutler of Cutler Insurance led participants in warm-up exercises designed to loosen muscles and joints to prevent injury. Jillian Payne, executive director of Loma Linda University Children's Hospital (LLUCH), welcomed participants to the event and acknowledged the dozens of volunteers and Loma Linda University Health employees who were there to support the affair, asking them to raise their hands and receive a round of applause. She then welcomed Scott Perryman, MBA, senior vice president of LLUCH, who also thanked everyone for attending.
Kerry Heinrich, JD, CEO of Loma Linda University Medical Center, said a few words and offered an invocatory prayer. Redlands Mayor Paul W. Foster welcomed everyone to Redlands and got a laugh from the crowd when he said he promised not to give a long-winded political speech. True to his word, he kept it short.
Next up, Cheryl Slaton, one of the newest members of the guild board, introduced the Guest of Honor, 9-year-old Alex Miller. Slaton explained that Alex is a living example of the compassionate care the physicians and staff of Loma Linda University Children's Hospital provide to the children of our community. She shared that Alex almost didn't make it to his first birthday, but thanks to the lifesaving interventions of Children's Hospital, he enjoys robust health today. Slaton also introduced Alex's brother Chase, who will turn 3 in just a few days.
The run got underway at approximately 8:00 a.m. after Officer Chris Mead of the Redlands Police Department instructed the runners and walkers to be mindful of their surroundings as the course ran through several neighborhood streets. Then he and Alex led runners to the starting point where Alex blasted the air horn starting the run.
The beautifully manicured grounds of the Burrage Mansion served as the perfect location for the event. Built in 1901 by mineral magnate Albert Burrage, the palatial estate was purchased in 2007 by entrepreneur Tim Rochford as a safe haven of play and enrichment for disadvantaged children.
Joanna Reyes, a student at Loma Linda University School of Pharmacy, finished the run ahead of everyone else. On her LinkedIn page, Reyes describes herself as an elite runner. Because of the family nature of this event, the run was not timed, but people who saw her cross the finish, reported that Reyes was moving very fast.
Perhaps five or 10 minutes later, Alex Miller came running up the long driveway to the finish line, holding the hand of his mother Alecia. After receiving his heart-shaped medal on a red, white and blue lanyard, Alex described the race as, "A little bit long, but a lot of fun!" Alecia's husband Michael Miller followed a short time later with Chase. When asked how Chase had done in his first 5k run, Michael said he ran quite a bit and had to be carried some as well.
The run was truly an inclusive event for people of all ages. Participants included more than one set of twin babies in strollers pushed by their moms or dads as well as runners in their 60s and 70s.
Eloise Habekost, who co-founded the guild with Watkins and Nancy Varner in 1990 and serves as co-president today, is also excited.
"It was a great way to get people off the couch and doing something healthy in the outdoors," she noted. "We had blue skies, incredible weather; it was like one big party from start to finish."