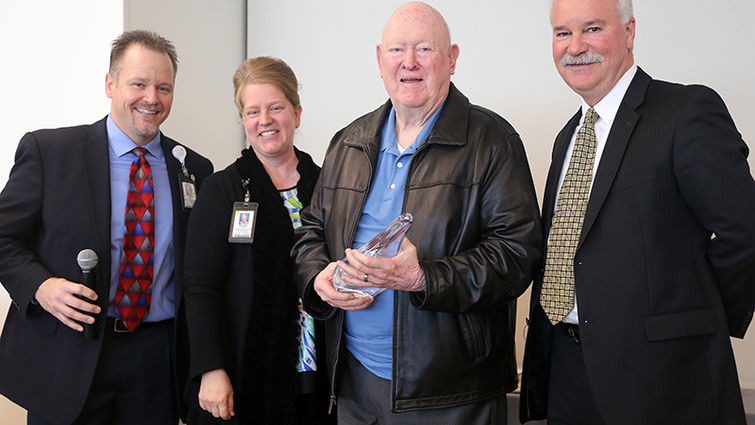 A record crowd of more than 225 attendees turned out to help Loma Linda University Health honors the people who keep everyone safe at work during the 2017 annual Safety Coordinators Awards Luncheon, which was held Wednesday, January 11, in the Conference Center on the 4th floor of the Centennial Complex.
Despite the fact that only five individual awards were presented, Vicki Brown, safety programs coordinator, insists the number should have been a lot higher.
After pointing out that this year marks the 40th anniversary of the safety coordinator program on campus, Brown added that there are currently 382 safety coordinators across all entities of the LLUH enterprise and noted that each one of them deserves to be applauded for their efforts.
"The 40th year celebration was a great success," she said. "It's a tremendous concept to have a safety coordinator in each department. Leadership is recognizing that."
LLUH administrators Mark L. Hubbard, senior vice president for risk management; Lyndon Edwards, MBA, MHS, senior vice president for adult hospital services; Jonathan Jean-Marie, MHA, vice president for East Campus and Surgical Hospital; Mike Mahoney, MBA, vice president of clinic operations, and Rod Neal, MBA, senior vice president of financial affairs, were on hand to celebrate the milestone.
The administrators joined Brett McPherson, director of environmental health and safety, and Brown in presenting awards to the following individuals:
Alisa Wilson, LLU School of Dentistry, 2016 Safety Honor Award
Chris Brooks, LLUMC-East Campus, Excellence in Safety Recognition Award
Rachel Millett, LLUMC, Excellence in Safety Recognition Award
Marco Soto, LLUMC and LLUMC-East Campus, 2016 Safety Coordinator of the Year Award
Two other men were also recognized at the event. Don Bender was honored for his pioneering efforts in life safety during the last 40 years of his career, and Mark Hubbard was cited for providing administrative support for 30 years. McPherson noted that it has allowed the safety coordinator program to grow into what it is today.
"Without a top-down initiative, safety can get pushed to the back burner," McPherson noted. "Mark's support—and the support of the rest of the administrators—is invaluable to the success of the program."
Bender, who served as the first-ever safety coordinator on campus, retired after 52 years of service to the organization in 2010. His final position was loss control officer manager for the department of environmental health and safety. At the event, Bender was flanked by his wife, Rita, and colleagues Jim Redfield and Hal Curtis.
At the end of the program, Ehren Ngo, MS, emergency operations manager, spoke for a few minutes about plans to increase awareness of a variety of safety issues in 2017 to help employees and members of their families cope with natural or man-made disasters.
"We wouldn't be the safe campus we currently are if it wasn't for our safety coordinators," Ngo said.
Brown concluded. "They are out in their own departments inspecting, observing, reporting safety issues, and working to get them resolved; keeping their areas a safe place. Our safety coordinators are invaluable!"