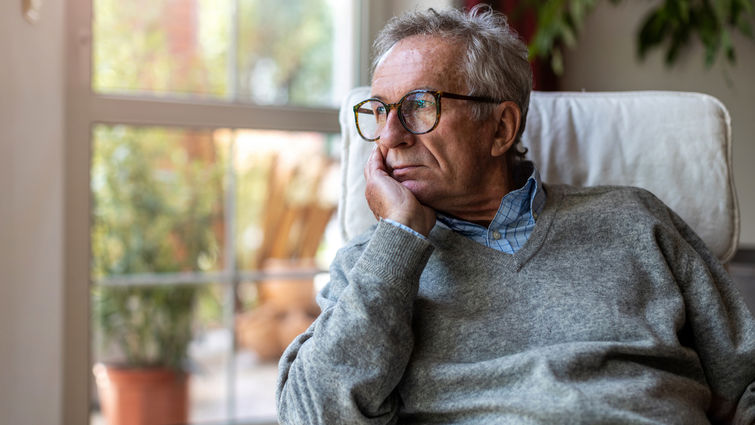 Sadness is not a natural quality we should accept as we get older. Retirement, reinventing relationships, health challenges, and dealing with significant changes can be challenging and may affect one's mental and emotional health. According to Olga Tapia, LCSW, Wisdom Program clinical therapist, many seniors experience an intersection of these factors and label their feelings as a consequence of getting older.
Tapia says people spend decades in a routine and spend the majority of their energy at work, causing them to yearn for retired life. That day-to-day busyness causes some to forget about developing hobbies or focusing on relationships they will enjoy when they eventually do retire.
"We look forward to retirement because we will finally get to relax and enjoy life.  But people who have lived in a routine for 20 to 30 plus years have a difficult time transitioning into a space where there is no structured routine," Tapia says. "They retire and realize they didn't create a plan for themselves outside of work."
How to create structure in retirement:
Rebuild bonds with your spouse and close friends
Strengthen relationships with children and grandchildren
Find a hobby. Try revisiting something you enjoyed in your youth
If not yet retired, establish a hobby to look forward to dedicated time during retirement
Volunteer
Become a part-time teacher in your former profession
Studies show the prevalence of depression among retirees was 28% higher than the overall adult population. Tapia says many do not realize that the transition into retirement may be challenging and may become frustrated that they are unhappy with something they looked forward to. She emphasizes the importance of honesty with yourself and others during this time, and it's OK to ask for support at any age.
"Many people only identify themselves by their occupation.  We help them to see their worth in who they are and create purpose in this new life stage.  Once they find that worth, they also find joy in other areas of life, rather than just producing," Tapia says.
The Wisdom Program at Loma Linda University Behavioral Health provides mental health education and skills for people 62 and older dealing with anxiety and depression. Individuals work together to reminisce on earlier-in-life moments, bond through a shared experience, and learn skills to improve mood through cognitive behavioral therapy.  
"Society says, 'That's just Grandma and Grandpa.' No, it's not. Elderly people can have fulfilling lives, but we limit them, so they limit themselves," Tapia says. "I love doing this work because my clients and I work on challenging this negative view and identify that growth never ends and that life can be and should be fulfilling at all ages."
The Wisdom Program is not only for retirees but helps all seniors experiencing late-in-life depression and anxiety. Learn more about Senior Mental Health programs offered at Loma Linda University Behavioral Health.