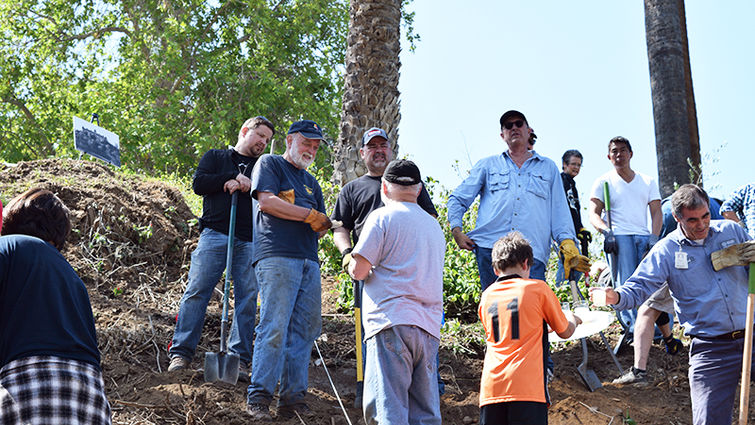 More than 50 volunteers were on hand Sunday, May 1, for a work bee organized by Richard Hart, MD, DrPH, president of Loma Linda University Health.
The purpose of their efforts was to uncover remnants of the original stairway leading from the Loma Linda train depot to the Mound City Hotel, built in 1887—which became the Loma Linda Sanitarium in 1905.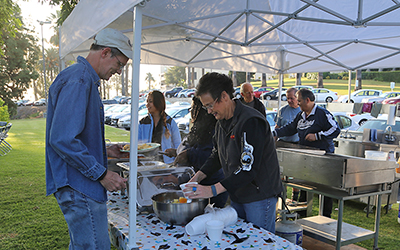 The work bee began at 7 a.m. with a pancake breakfast. Hart had asked the deans of the residence halls to serve and several flipped pancakes for the volunteers.
The work began as the volunteers made their way gingerly down the steep embankment, ready with work gloves, shovels, pick axes, and a variety of other tools. The group worked until about 11 a.m. and uncovered most of the hillside, discovering interesting artifacts along the way.
While the wood had long ago disappeared, square nails and rock pilings presumably at the base of support beams were discovered. A pint bottle from the Loma Linda Dairy was also uncovered, as well as a glass syringe.

The largest find, a pool for a fountain visible in the some of the historic photos, brought the most excitement to the group.
Richard Schaefer, historian for Loma Linda University Health, gave some context to the stairs for those at the pancake breakfast.
The original stairs led straight up from the railway station to the top of the "hill beautiful," literal translation for the name Loma Linda. Pepper Street, which has since been replaced by Anderson Street and rerouted somewhat, was lined with pepper trees and ended near the base of the staircase.
Approximately 30 steps took visitors to the first landing, where a bench with a shade allowed them to catch their breath if needed. At that point, the stairs split, with a garden in the middle. Two stairways of 30 steps each brought climbers to the second landing, where another shade protected a fountain and pool.
The final 30 stairs led to the base of the Sanitarium grounds. More stairs brought them to the entrance. Perhaps by that time, visitors realized that exercise was considered a vital part of the treatment they would be receiving, and that Loma Linda Sanitarium was far more than a relaxing spa.
Visible across the valley, the stairs were bordered by pepper trees and ground cover. Later, two rows of palm trees were planted on either side; those palms remain to this day, providing a visual reminder of the iconic staircase.
"We had a good day," Hart smiles. "I'm so pleased with the support of our Loma Linda University Health family in coming out so early on a Sunday morning to unearth some of our history."
Hart particularly enjoyed finding the historic relics and the remains of the fountain. "To actually hold parts of the fountain, or the square nails, or the milk bottle, brings our history alive," he adds.