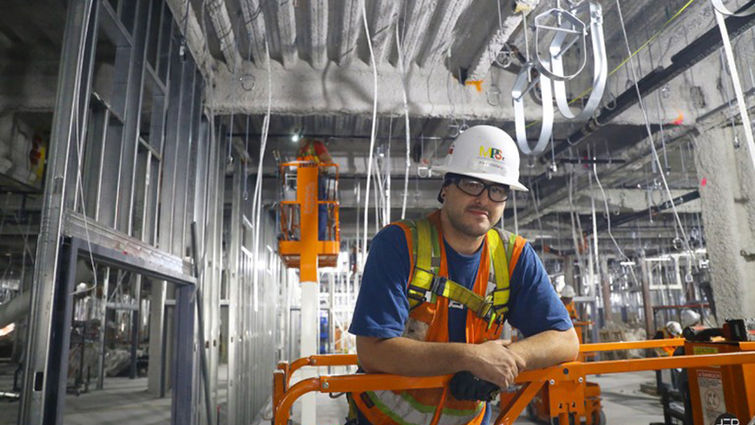 Adam, a plumber who has worked on a number of major construction projects, had his face inches from the hanging copper pipes he was placing to carry hot and cold water in the new Loma Linda University Children's Hospital tower.
"I like working on this project because it's close to where I live," Adam said. But the Ontario, California, resident had a second reason he enjoyed working on the Loma Linda University Health project. Pointing toward the current Children's Hospital, he said, "My wife works right over there, in the pediatric operating room."
While confessing that he has never worked on a job in close proximity to his wife, Adam admits that "there is something comforting knowing that Rachel is just in the next building over."
Adam married Rachael 10 years ago. She's a graduate of the Loma Linda University School of Nursing and has been employed at Children's Hospital since passing her boards. The couple is originally from San Jacinto, even attending the same middle and high schools, but never meeting as teenagers. They now have a daughter and son and tend to stay pretty much close to home.
"I don't have family associated with Loma Linda University Health, though I always heard great things about its reputation," Rachael said. "While I never thought I could attend a private college, I had a good feeling about Loma Linda University, and made it the only place I applied to. Turned out to be one of the best decisions I have ever made."
Rachael's mother ran a daycare service in their home, and Rachael helped while growing up. Those experiences gave her a desire to find a career to help children.
"I love being able to be there in the operating room for the kids when they are feeling anxious or nervous," Rachael said. "I help them calm down and think about positive things. I love knowing that we in the Peds department are helping them have a better and healthier life."Rachael said she is happy that Adam works on the new building. "I may be biased but I think Adam is the best amongst the trade. I know his quality of work by his projects around the home and his friends."
Both Adam and Rachael already have emotional connections to the new tower of healing for children. But Adam will always be able to say he worked in the new tower years before Rachael transfers into the sparkling new PICU.
The ongoing construction, which began approximately two years ago, is a part of Loma Linda University Health's Vision 2020 – The Campaign for a Whole Tomorrow. New buildings for both hospitals will exceed California's upcoming seismic requirements for hospitals. Loma Linda University Children's Hospital serves more than 1.2 million children in the Inland Empire. There will be 373 beds available for pediatric patients when the facility is completed.
We're sharing photographic updates of the hospital construction work on a periodic basis. Watch for special emphasis on some of the behind-the-scenes-views and untold stories at the Vision 2020 website.
This vignette is adapted from a blog by Dennis E. Park, which appears on the website http://www.docuvision2020.com.