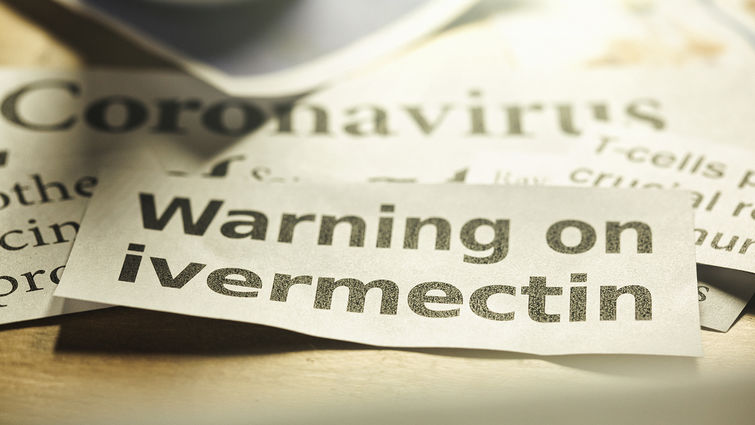 Healthcare providers around the nation are facing patient demands for ivermectin to prevent or treat COVID-19, despite false claims and no scientific evidence it works.
Alireza FakhriRavari, PharmD, BCPS, BCIDP, AAHIVP, infectious disease pharmacist and assistant professor at Loma Linda University School of Pharmacy, explains what ivermectin is, what it is effective against, and why it shouldn't be used to treat coronavirus symptoms.
What is ivermectin?
Originally developed in 1975 to treat parasitic infections in livestock and pets, ivermectin is an antiparasitic drug approved by the Food and Drug Administration (FDA) to treat infections of roundworms and other tiny parasites in humans. Topical formulations of ivermectin — such as lotions and creams — are prescribed to treat external parasites like headlice and the skin disorder rosacea.
The drug is FDA-approved for use in animals for prevention of heartworm disease in some small animal species and is often used as a de-worming treatment in larger animals.
"When appropriately prescribed doses are taken, the drug is highly effective against parasites," FakhriRavari says. "It is not a proven treatment for COVID-19 or other viral infections in humans or animals."
Does it prevent or treat COVID-19?
FakhriRavari says the use of ivermectin to prevent or treat coronavirus symptoms has not been shown to be safe or effective.
"Some have widely promoted ivermectin as a COVID treatment despite a lack of scientific data or rigorous clinical trials showing a significant benefit," FakhriRavari says. "The clinical data to date shows it is ineffective in treating COVID."
When is ivermectin dangerous?
Taking high doses of concentrated ivermectin prescribed for large animals like cows and horses is highly toxic to humans, FakhriRavari says. "There is a lot of misinformation circulating that it is okay for humans to take large doses of ivermectin. Self-medicating with high doses of the drug can be toxic, even deadly."
Humans should never take animal drugs, FakhriRavari says. "The FDA has only evaluated safety and effectiveness in the particular species for which they are labeled, and humans using these medicines could seriously be harmed."
Signs and symptoms of ivermectin overdose include gastrointestinal effects (nausea, vomiting, abdominal pain, and diarrhea), headache, blurred vision, dizziness, fast heart rate and low blood pressure. Other severe nervous system effects have been reported, including tremors, seizures, hallucinations, confusion, loss of coordination and balance, decreased alertness, coma, and even death, according to the Centers for Disease Control and Prevention.
FakhriRavari says reports of ivermectin poisoning across the country have more than tripled this past year. Through Oct. 31 of this year, there have been 1,810 cases of ivermectin poisoning in the United States, compared with 499 for the same period in 2019, according to the American Association of Poison Control Centers.
The National Poison Data System (NPDS) collects data from the nation's 55 poison control centers and found a 245% jump in reported ivermectin exposure cases from July to August — surging from 134 to 473.
Even when taking oral ivermectin for approved human uses, the drug can interact with other medications, like blood thinners. FakhriRavari says patients should consult their healthcare provider or pharmacist about appropriate ivermectin use. He also advises filling ivermectin prescriptions through a pharmacy, as opposed to taking veterinary formulations, and taking the drug exactly as prescribed for appropriate indications.
Most effective way to prevent COVID-19
FakhriRavari says the most effective way to limit the spread of COVID-19 is to get the vaccine when it is available to you, following current CDC guidance. For individuals unable to get vaccinated due to contraindications or unavailability of vaccines, monoclonal antibodies are effective for prevention after exposure and early treatment.