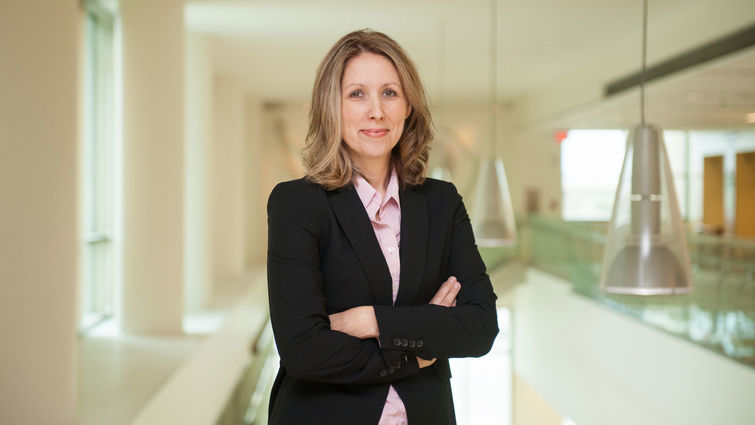 This article originally appeared in Scope magazine.
Rhonda Spencer-Hwang, DrPH, MPH, once dressed up as a "pirate" doctor and danced on a stage at an elementary school fair to attract children and their parents to sign up for a health study. It was 2012, and she was using a $2-million grant from the First Five Riverside Commission to provide educational services and conduct research among 10,000 children and families in Riverside County, searching for why asthma was so prevalent in that community and how the health issue could be addressed.
But in the course of her research, Spencer-Hwang soon realized Riverside children were dealing with chronic diseases in addition to asthma. She also began to understand the types of stresses these families dealt with daily — poverty, anxiety, homelessness, broken families and many others. 
Spencer-Hwang, an associate professor at Loma Linda University School of Public Health and a researcher for the school's Center for Community Resilience, says there's a growing body of evidence that links a wide range of stresses a person experiences in childhood to developing chronic diseases in adulthood, thereby reducing longevity.
She points to Vincent Felitti, MD, who in 1998 published a groundbreaking study that showed a link between what he termed "Adverse Childhood Experiences," or ACEs, and health issues in adulthood. Felitti's work showed that, left unabated, frequent activation of a person's stress response system could become toxic, potentially leading to adverse biological changes. Felitti worked with Kaiser Permanente and partnered with the Centers for Disease Control for his landmark work.
Researchers have defined ACEs as traumatic events such as extreme poverty, household challenges, including divorce or single parent families, a parent's mental health, abuse, neighborhood or regional violence, alcohol or drug use, or parental incarceration.
"The more of these events you check off in your lifetime, the greater the likelihood you'll have chronic diseases as an adult," Spencer-Hwang says. "More than two-thirds of adults have at least one ACE in their lives. And 46 percent of children have endured at least one ACE." 
Spencer-Hwang says ACEs can promote chronic inflammation in a person's body, and this type of inflammation is a contributing factor to the development of many chronic illnesses, such as cardiovascular disease, mental illness, cancer, diabetes and other conditions, which can ultimately limit one's lifespan. Additionally, ACEs and their associated stress, make a person even more susceptible to other types of harmful environmental exposures, like air pollution.
A research study of 7- and 8-year-olds who come from abusive families show significantly increased inflammatory markers when compared to non-abused children, she says. She and her team already see in children the adverse biological changes taking place. In the low-income minority population she targets through her First Five program, she saw chronic stress building across the generations. She also saw mitigating the effects of ACEs as one of the top health challenges in the country.
"As a researcher and a mom, I felt there had to be something we could do," she says.
Spencer-Hwang took advantage of Loma Linda's Blue Zone® status to look at the issue from a new perspective. The city is home to many centenarians, and she decided to start by studying the other end of their lifecycle to see what might be learned. "Have they developed resiliency to ACEs? And beyond individual resiliency, can there be resilient communities, as well?" she wondered.
She and her volunteers assumed centenarians as a group would have had easier lives, but they were in for a surprise.
"There actually was a tremendous burden of ACEs in our centenarian population," Spencer-Hwang says. "They averaged four ACE experiences — one of them had six. Research shows that six ACEs should lower lifespan by 20 years!"
Only two of the centenarians interviewed were born in the United States. The group was genetically diverse and faced different ACEs depending on where they grew up. So how did Loma Linda centenarians overcome the effects of those life experiences? 
"What they shared was this type of simple kinetic life," Spencer-Hwang says. "They spent time in nature, often because their families were farmers. These were active people. They also enjoyed strong social bonds from family and friends. Their diet was rich in fruits and vegetables, with little meat, the type of food readily available on their farms.
"Not all of them were Adventist growing up, but all of them had a religious background," Spencer-Hwang said. "Eventually, they all came to Seventh-day Adventism at some point in their lives." 
A concept called "inflammaging theory" proposes that whatever steps are taken to reduce systemic inflammation in one's body will allow a person to live longer and better. Spencer-Hwang says there are two ways to deal with how ACEs contribute to build up of systemic inflammation — reduce the number of ACEs, or mitigate the effect of the ACEs.
"Clearly, we will never be able to completely eliminate things like poverty, violence, broken families or chemical abuse," Spencer-Hwang says. "But the lives of our centenarians show it may be possible to reduce the ACE accumulated response. This is definitely an exciting area of potential research for our institution."
"We are unaware of any studies done in a Blue Zone that looks at ACEs, lifespan and mitigating inflammation," Spencer-Hwang says. "Loma Linda should be known as a community of resilience."
The Adventist lifestyle is often presented to the public as a series of individual health practices — diet, exercise, fresh air and sunshine. Spencer-Hwang prefers a more integrated approach.
"No one has time in the day to address all the lifestyle factors individually," she says. "The Adventist lifestyle brings many factors together synergistically. I don't know anyone who can be perfect in every health practice. The wholistic approach allows you to live life rather than follow a formula."
Spencer-Hwang presented her preliminary findings during the Healthy People 2017 conference held on campus as part of the One Homecoming weekend. What started as a side project with a group of student researchers was published yesterday in the Permanente Journal. She's also writing a book for parents, showing how to adopt the secrets of the centenarians into their families' lives.
"Looking at younger families, you see a decreasing value in the things that centenarians valued," Spencer-Hwang says. "There is such a crunch for time today. There is no downtime for kids, just a frenetic pace. I believe many of us need to reevaluate some of the choices we're making and begin to place more value in time together with families."
Spencer-Hwang suggests families schedule unstructured quality time in nature, and cook some simple meals together at home rather than grabbing takeout.
Spencer-Hwang would like to develop ways to creatively bring this information to the public. Her dream would be to develop a Center for Children in Loma Linda to conduct ground-breaking research and provide services. As for the next step in her research, she hopes to go to other Blue Zone regions in the world to uncover how centenarians in those places have coped with the life stresses they faced as children, which research suggests should have cut their life short.