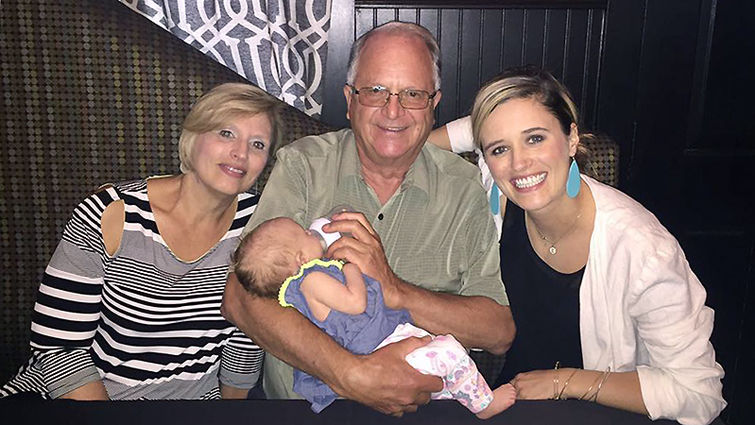 Rob Newbold, RN, had no interest in using social media until last year when his wife, Jeanne Newbold, told him that one of his former patients was searching for him on Facebook.
In a May, 2016, Facebook post, Christina "Mouse" Jennings shared a black-and-white photo of herself holding a poster that read "Searching for Nurse Robb who worked at Loma Linda University Medical Center Peds Intensive Care Unit, 1986-1987."
Jennings, 31, a revenue analyst at the University of Iowa, was a baby when Rob Newbold took care of her at Loma Linda University Medical Center's pediatric intensive care unit (PICU). She and her mother relocated from Rancho Cucamonga, California, to Dubuque, Iowa in 1992.
According to the poster's handwritten message, Jennings had been born with tricuspid artresia, a congenital heart disease. "During one of my many hospital stays, Nurse Robb saved my life!" she wrote, inviting the public to share the photo using the hashtag #findnurserobb.
"I told Rob he needed to respond to Christina," Jeanne Newbold said. "I'd helped him set up a Facebook account in February much to his dismay, and after learning about Christina's search I helped him begin to use it."
There was no doubt that Newbold was Nurse Robb — in the mid-1980s he was the only person named Rob who worked in the medical center's PICU.
Newbold worked as a PICU nurse at LLUMC for 20 years after graduating from College of the Desert in Palm Desert with his RN degree in 1983. He later joined the staff of Kaiser Permanente Medical Center – Fontana in 2002, working in the ER and later, in the operating room. In 2006, he began working in the operating room at Redlands Community Hospital before retiring in 2010.
Newbold and Jennings began chatting on Facebook occasionally, and less than a year after the #FindNurseRobb campaign began, he reconnected with his former patient during an extended trip to Chicago to visit his brother Jim Newbold.
On June 28, he borrowed a car from his brother and made the three-and-a-half hour drive to Dubuque. The initial reunion took place at the hotel where Rob was staying. "Reconnecting with Nurse Rob was an amazing feeling — I had tears in my eyes," Jennings said. "My husband, Ryan and I both felt like we had known Rob all our lives."
Leonard Bailey, MD was Jennings' surgeon, and taking care of sick babies and children with cardiac conditions was commonplace for every PICU nurse, Newbold said.
A highlight of Newbold's visit came when he held Christina and Ryan's 7-week-old daughter, Elleora. "I held Christina 30 years ago in the PICU just like I held Elleora," he said.
Meeting Newbold was also meaningful to Jenning's mom, Beth Gilbreath. "Nurse Rob had a major impact on my life and on Christina's as a compassionate, respectful, caring and above all, kind nurse," Gilbreath said.
She shared a memory of an event that took place after her daughter's first surgery, when Jennings was about 4 months old. Christina began experiencing complications after she was admitted to the PICU. During her stay she had problems eating and would sometimes stop breathing, Gilbreath said.
One day Christina was stable and Newbold encouraged Gilbreath to go to the cafeteria to get something to eat. When she returned about 20 minutes later, a nurse stationed outside PICU asked her to wait as a procedure was being done on a patient. A few minutes later Newbold told Gilbreath that her daughter had coded and paddles had been used to restart her heart.
"While I don't remember the family or an incident they describe when Christina experienced cardiac arrest and was given CPR during my shift, meeting her as an adult with a new baby felt great," Newbold said.
During his two-and-a-half day stay in Dubuque, Jennings and Gilbreath, a real estate agent, told Newbold about their lives and showed him the sights including the property where the 1989 movie Field of Dreams was filmed. "Before I left, it felt like they were family," Newbold said.
Jennings, who has had four major cardiac surgeries, the most recent at age 25, said she has outlived doctors' predictions about how long she will live several times. "While six-month checkups with my pediatric cardiologist are a reminder of my heart condition, I now feel the healthiest I've ever felt," she said.
Jennings is enjoying taking care of her new daughter and blogs about what she has learned as a joyful survivor on Facebook at Peaces of My Heart; the Newbolds enjoy travel and have visited Cuba, Egypt, Israel, Italy and Jordan.