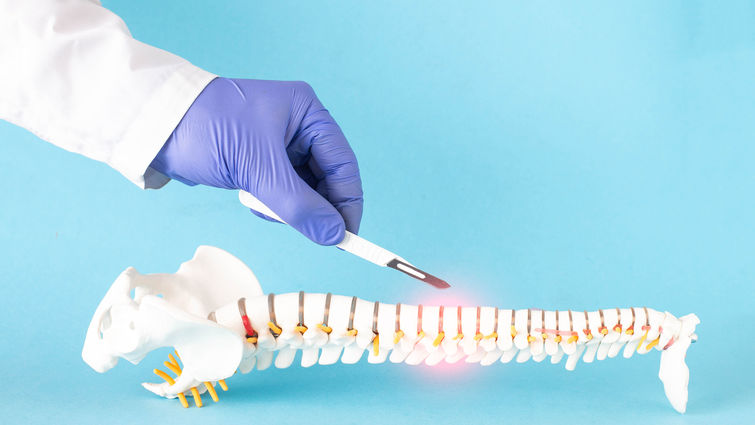 Spine surgery has a reputation for being a significant procedure resulting in extended hospital stays and significant recovery times. However, by performing minimally invasive surgery, doctors can achieve better results as open surgery with less time in the hospital recovering, quicker healing times due to a smaller incision, and better long-term outcomes.
Namath Hussain, MD, a neurosurgeon at Loma Linda University Health, has been a proponent of minimally invasive surgeries, especially in the spine. "As physicians, we are driven by the desire to do what is best for each patient when it comes to their unique situation."
Hussain says minimally invasive spine surgeries are preferable for best patient outcomes for the following reasons:
A smaller incision.
Minimally invasive means using a small skin incision, but what is far more important is what the surgeon does under the skin. "These procedures achieve the same surgical goals as an open surgery," Hussain says. "We achieve the same degree of nerve decompression or spine stabilization without short changing the surgical goals," he says.
The minimally invasive techniques used on the spine by surgeons all support the idea of achieving the goal first and during that process, decreasing the amount of tissue disruption and incision size.
Reduced damage to surrounding tissue.
One risk of more traditional open surgeries is muscle disruption, tissue disruption or tissue manipulation. "Minimally invasive techniques decrease the damage to surrounding structures," Hussain says.
Tissue trauma is typically the most painful part of any surgery, causing both post-operative pain and increasing the likelihood of complications down the road, he says.
Adjacent segment disease (ASD) is a condition that may occur after a spinal fusion surgery to fuse multiple bones together, stopping any unnatural motion. ASD may be used to describe any number of issues that cause a patient to develop pain after spine surgery.
"Minimally invasive surgery leads to a reduced likelihood of repeat surgery because the adjacent spine levels are not disturbed, thus reducing the incidents of ASD" Hussain says. "ASD is one of the main reasons people undergo repeat spine surgery 1-5 years after their procedure," he says.
Shorter post-operative stays in the hospital.
Less tissue destruction, less blood loss and a reduced chance of muscle disruption all lead to shorter hospital stays. "Patients are able to get in and out of the hospital sooner," Hussain says.
"Often, these surgeries can be done on an outpatient basis, which decreases patients' exposure to other illnesses," he says. There is always increased risk when being around people in the hospital, so Hussain says it's better to be at home to decrease the risk of catching a transmissible disease.
Minimally invasive surgery is not just an equal alternative, but a better option for people who need spine surgery, Hussain says.
Loma Linda University Health's specialized spine surgeons are experts in a wide range of surgical and non-surgical treatments for spine disorders. To learn more about the services available, visit our spine surgery page or call 877-558-0800.