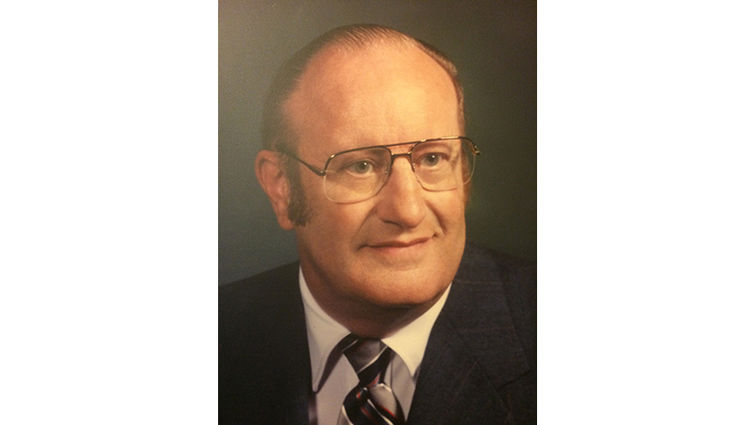 From part-time page as a teenager all the way to general legal counsel and board officer, Richard Allen James, JD, who died Oct. 1, 2017, in Redlands at age 88, devoted 60 years to serving Loma Linda University.
James spent almost three decades as general counsel, from 1971 to 2000, overseeing all legal matters for the university. He concurrently served as secretary of both the Board of Trustees and the Corporation from 1983 until his semi-retirement in 2000; for another five years, he worked part-time.
The university honored James' contributions with the University Distinguished Service Award in 2000 followed by the Lifetime Service Award in 2012.
Along the way to those achievements, James took two years off from his beloved College of Medical Evangelists, as the university was then known, to serve two years in Washington, D.C., during the Korean War, in the U.S. Army Adjutant General's Corps.
Upon returning to Loma Linda University, he became director of the patient business office (1952-56) and then rose through successively higher administrator roles: chief accountant for LLU Foundation (1956-57), assistant treasurer for Loma Linda University (1957-65), assistant legal counsel (1965-1968) and associate legal counsel (1968-1971). Along the way, he earned a Doctor of Jurisprudence from the University of Southern California in 1966 and passed the exams to become a member of the State Bar of California and American Bar Association in 1967. 
In 1969, James was appointed general legal counsel for Loma Linda University; elected both assistant secretary of the Board of Trustees and one of the assistant secretaries of the Corporation in 1971; and in 1983 was appointed secretary of the Board of Trustees and secretary of the Corporation.
"Mr. James was a wise and prudent counsel to the university and a superb draftsman of legal documents," said Kent Hansen, JD, who succeeded James as general counsel in 2000. "His gracious manner and kindness were hallmarks of his professionalism."
Richard Allen James was born on Nov. 1, 1928, in Battle Creek, Michigan, to his railroad conductor father — from whom James inherited his lifelong love of trains — and his mother, who was a private secretary for John Harvey Kellogg.
The family moved to the Inland Empire in 1943, and James attended Loma Linda Academy. In the summer after his junior year, he became a part-time messenger at the College of Medical Evangelists and Loma Linda Sanitarium. As a high school senior, he moved to desk clerk and held that position until he graduated in 1950 with a bachelor's degree from La Sierra College (now University).
Working as a desk clerk gave James the opportunity to meet nursing student Lorna Mae Waters, whom he would marry on Christmas Day 1950 before reporting for Army duty later that night.
After two years in Washington, D.C., for James' military service, the couple returned to work again for Loma Linda University. They had two sons, and the family made memories through many camping trips and vacations. James was committed to making family a priority even as he earned his law degree and served Loma Linda University with dedication.
James helped trail blaze acceptance among Seventh-day Adventists of the law as an acceptable, desirable career. He also was active in the Seventh-day Adventist Church, including as a member of the General Conference Standing Trust Services Committee, contributing to the professional growth of numerous individuals who held leadership positions in trust services in church organizations.
He is survived by his wife of 67 years, Lorna Mae James; two married sons, Jerome and wife Lorene, and John and wife Vanessa; and granddaughter Ashley James.