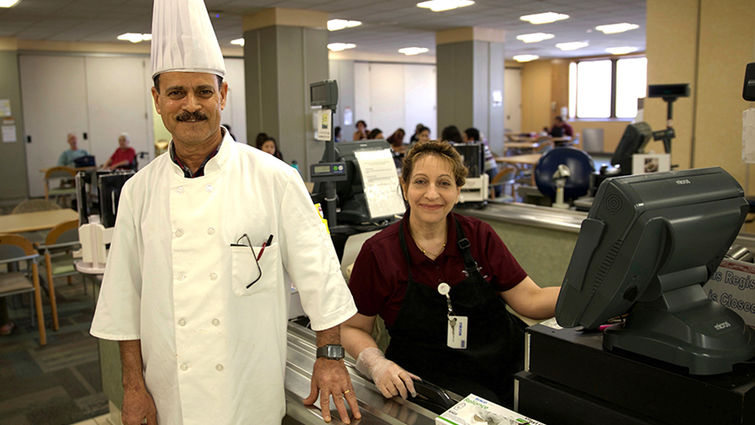 When Iaed Amen arrives for his 5 a.m. shift as a cook and baker at Loma Linda University Children's Hospital, the first task is to set the ovens to the right temperature.
While they warm up, Amen preps the food decks, boils water for oatmeal and Cream of Wheat, seasons the hash browns and mixes pancake batter.
Later, he'll make French toast, bake a batch of pies and assist on the serving line.
The 59-year-old native of Iraq inherited his love of cooking from his father. He remembers the day when Kather Amen sat his 5-year-old son on a stool and taught him to prepare shawarma, a Middle Eastern delicacy. He cherishes the memory to this day.
The morning passes quickly as Amen fills patient trays, prepares special diets and prescriptions from physicians and nutritionists, and blends flavors to please the palate.
When the noon rush ends, he cleans his workspace, punches the clock at 1:30 p.m. and prepares to leave.
As a child, Amen dreamed of moving to America and playing professional soccer.
As a child, the son of the diesel mechanic/restaurateur and housewife alternated between dreams of moving to America and playing professional soccer for the home team.
Introduced to the game at the age of 8, Amen passionately pursued the sport. The dream came true when he was recruited to play professionally while still in his teens. He joyfully accepted, and for several years, anchored the midfield for Al-Mina'a Sports Club. In 1978, he helped the team clinch the Iraqi Premier League championship for the first time.
It was around the time of his wedding that he first heard about Loma Linda University Health. When his fiancée's brother-in-law arrived for the wedding, Amen found his stories of a place called Loma Linda interesting. Ganim Hanna, president and CEO of Loma Linda Broadcasting Network, described the city as a peaceful community with a health-sciences university.
Amen liked what he heard, but since he had a wife, home, car and career in Iraq, there was no reason to leave. Before Hanna left, however, he persuaded Amen to let him file immigration papers. There was no obligation to move if the couple elected to stay.
As life went on, the political situation and safety expectations in Iraq began to deteriorate. In January of 2004, Amen and Ginan were unexpectedly summoned to the American embassy with their children, Marvin and Rita. Their application had finally been approved. They were ready to leave.
Two months later, Amen and his family flew to the United States to start a new life. The very next week, he landed a job at a Rialto bakery, and, two months later, joined the food service team at Loma Linda University Medical Center.
Fast-forward 14 years and things turned out better than anyone imagined. His wife, Ginan, works as a cashier in the LLUMC dining room. Their son, Marvin, is a third-year student at Loma Linda University School of Medicine, and their daughter, Rita, is pursuing a PhD degree in nutrition at the School of Public Health. She is also an adjunct professor at La Sierra University and serves as a nutrition consultant at an Inland Empire orthopedics provider.
"I am very happy here! "Iaed Amen
For his part, Amen recently graduated with a diploma in Nutrition, Diet and Health Science with Honors from Ashworth University. He loves his job and considers his coworkers and bosses members of his family. He thanks God for bringing him to Loma Linda, and routinely turns down offers to work elsewhere when they are offered.
"I am very happy here," he says. "The people love God. I like that a lot. I have never seen anywhere like this place!"