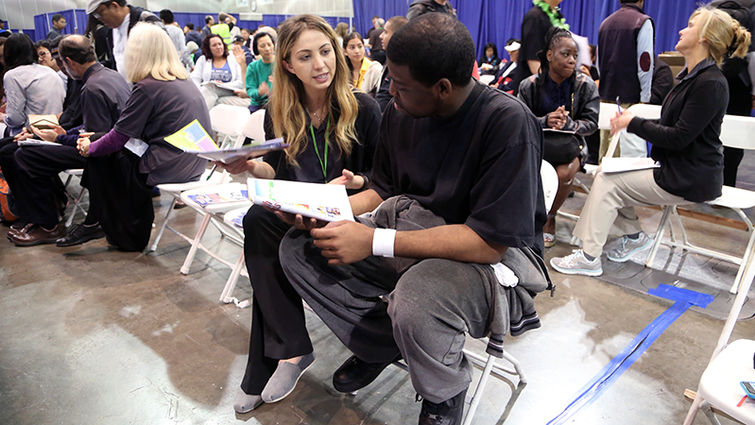 An online search for the phrase "a hurting world" returns 1.34 million results, many connecting religion to humanity.  
The meaning of these words became visible recently when, from April 27 to 29, 8,537 uninsured and under insured persons in need of health care visited Your Best Pathway to Health (YBPH) — Los Angeles.
The three-day mega clinic was held at the Los Angeles Convention Center. Hundreds of volunteers from Loma Linda University Health helped staff it.
The goal was to offer free, comprehensive health care to as many people as possible. Specialties included cardiology, dentistry, infectious disease screening, orthopedics, physical therapy, vision care and women's health (OB-GYN). On-site services included cardiac stress testing, radiography, ultrasound, vision screening and clinical lab tests. Each participant also received personalized lifestyle coaching in areas such as smoking cessation, weight loss and nutrition.
In early 2016, YBPH organizers asked Loma Linda University Health to provide as many volunteers as possible to meet the estimated 3,000 that would be needed to staff the event, which would be held nearly 60 miles from Loma Linda University Health.
Two informational sessions were held at Loma Linda University Health in January, one for faculty and staff, and a second for students.
Faculty, students and staff from throughout Loma Linda University responded. On clinic days, groups organized by the Schools of Allied Health Professions, Behavioral Health, Dentistry, Nursing and Public Health joined volunteers from the departments of OB-GYN, pharmacy, clinical lab and surgery as well as staff from the Institute for Community Partnerships and Community-Academic Partners in Service.
They and volunteers from Loma Linda University Church were among the more than 4,400 individuals who traveled to Los Angeles by Metrolink, in personal vehicles and on chartered buses and vans, leaving as early as 5 a.m. to arrive at the Convention Center and be in place by 7 a.m., when the doors opened.
Nurse practitioner student Sandra Edpao worked in the primary care section, focusing much attention on educating the patients about issues such as diabetes, hypertension and healthy eating.
"It was definitely rewarding to see patients' faces light up as they learned new tips and information that will benefit their health and ultimately enhance their quality of life," Edpao says. "All of our patients expressed deep appreciation for our care, and there were many poignant moments for patients and providers alike. I felt honored to have had the opportunity to serve, teach and inspire hope within these people who operate their lives with so little." 
"So many times when we think of providing service we think of traveling far away," says Juan Carlos Belliard, PhD, MPH, director, Institute for Community Partnerships. "This event provided a powerful opportunity to make our students aware of the great need that exists in our own neighborhoods, close to where we live, work and study."
Among the thousands of volunteers were church members who met at the Olympic Korean Seventh-day Adventist Church where they prepared sack breakfasts for the volunteers.
Tony Yang, director of marketing, School of Medicine, and pastor of the English ministry at Olympic Korean Seventh-day Adventist Church, was among the volunteers.
"It was easy to focus on the 'what' — our task of packing 1,600 meals each day," he emphasizes. "But as I saw how many people the clinic was helping, God helped me to see the 'why.' The meals were a small way to give the volunteers strength and energy to do their work. And through their healing ministry, lots of people saw Jesus. That's what it's all about, and it made it all worthwhile."