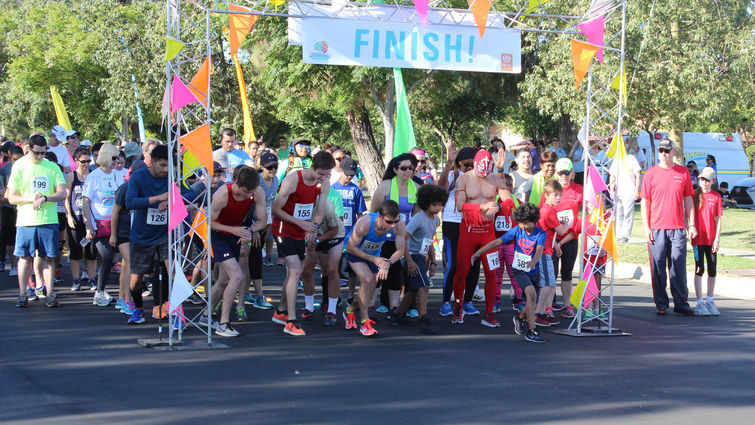 The "Stand Up to Stigma" 5K, sponsored by the Loma Linda University Behavioral Medicine Center, will let runners and walkers of all ages show their support for those dealing with mental health issues, and raise their awareness of available mental health services. This second annual race is scheduled for Sunday, May 20, at 7:45 a.m. Registration and starting line will be across the street from the Behavioral Medicine Center, at 1686 Barton Road, Redlands, California.
Race entry fees and sponsorships will aid in the construction of playground facilities for the Behavioral Medicine Center's youth patients, a part of the Vision 2020 – The Campaign for a Whole Tomorrow. Registration fees include a goodie bag, runner's bib and a t-shirt (shirt limited to first 500 entries). Racers will also enjoy a "Post Race Bash" featuring lunch, refreshments, photo booth, and mental health information.
"We want to raise awareness of issues surrounding mental health," said Edward Field, MBA, Vice President of the Behavioral Medicine Center. "We have found there is a lot of stigma surrounding mental health, so people are nervous to talk about it.
Many find it's easier to talk about heart disease or cancer. The disease of mental illness is no different. It's all part of health care."
Loma Linda University Behavioral Medicine Center has provided a full spectrum of mental health services for more than 25 years. The center's services and programs cover issues such as substance use, eating disorders, anxiety, or depression, for all ages, ranging from children to senior adults. 
May is national mental health month, a time when events like the 5K help spread the word that mental health is something everyone should care about. One in five adults and children experience a mental illness at some point in their lifetime. More than 16 million American adults live with major depression. 
Join Loma Linda University Health and runners from throughout the Inland Empire to stand up to the stigma that surrounds mental illness. Race entry fees are $15 per person, $10 for students, with ages 7 and under free. Enter online until May 20 at llubmc.org/StandUp. Registration is also available onsite beginning at 7 a.m. on race day. 
For information about the range of services available at the Behavioral Medicine Center, go to llubmc.org.