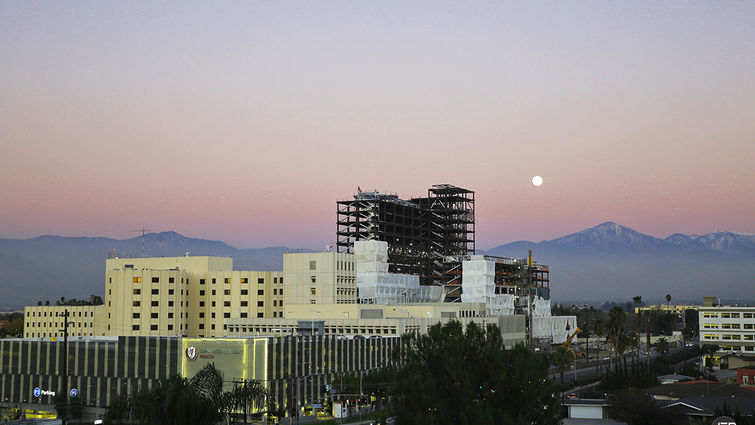 With the final steel beam placed during the December 12 topping off ceremony, the new Loma Linda University Children's and Adult Hospitals have remade the skyline of the region. Ironworkers spent more than a year raising the steel frame, starting from a deep pit below ground level, to the now 16 floors of the Adult Hospital tower.
The steel structure of the completed towers now dwarfs the existing cloverleaf towers.
The new Medical Center tower is the tallest building in San Bernardino County. Sharing a common pedestal of five stories, it is parallel to the new Children's Hospital tower, which stands nine stories tall combined. The two towers share approximately 25 thousand tons of steel.
The new Medical Center will house 320 beds for adult patients, while the new Children's tower will give Children's Hospital a total of 373 licensed beds. The new facilities will also be a place where 4,700 Loma Linda University students and 700 residents will progress in their education.
The ongoing construction, which began approximately two years ago, is a part of Loma Linda University Health's Vision 2020 – The Campaign for a Whole Tomorrow. New buildings for both hospitals will meet and exceed California's upcoming seismic requirements for hospitals.
The photo album below shares some views of the surrounding Inland Empire region from the 12th floor, as well as photos of the initial exterior wall sections being put into place on the podium.
We're sharing photographic updates of the hospital construction work on a periodic basis. Watch for special emphasis on some of the behind-the-scenes-views and untold stories at the Vision 2020 website.
This vignette is adapted from a blog by Dennis E. Park, which appears on the website www.docuvision2020.com.