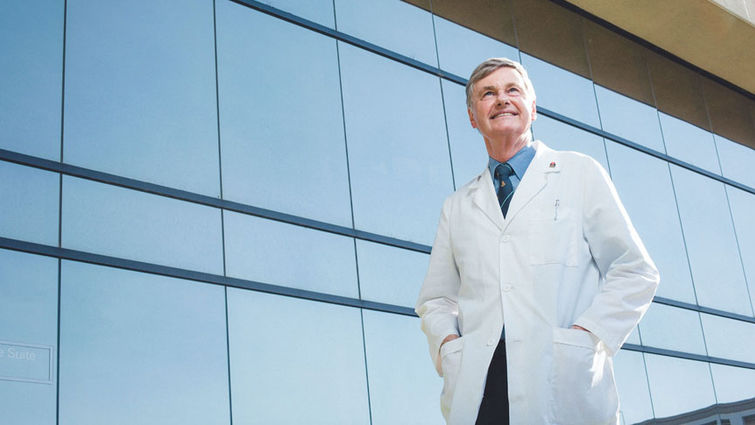 This story originally appeared in Scope magazine. 
In 1951, the late Mervyn Hardinge, MD, DrPH, PhD, stood in front of a skeptical doctoral defense committee at Harvard University to present his findings on whether a vegetarian diet provided adequate nutrition.
"Does a vegetarian make an appropriate investigator for this type of study?" a committee member asked.
"Would a non-vegetarian be any less prejudiced?" Hardinge retorted.
From the start of his time at Harvard, his professors had been welcoming but skeptical of Hardinge, a lifelong vegetarian embarking on research that would run counter to lobbying efforts of the meat and dairy industries to influence federal dietary guidelines. Professors had required him to work in a hospital kitchen to learn cuts of meat, thinking he should better understand the diets of non-vegetarian research subjects.
Even at Loma Linda University, where Hardinge taught anatomy, some colleagues were leery of his research, thinking it could expose holes in the vegetarian diet espoused by the institution's Seventh-day Adventist Christian founders. A dean had urged him to change his research subject, saying, "If you find the diets of vegetarians are deficient, it will embarrass us."
Hardinge reportedly replied, "If the diets are deficient, we should be the first to find out, not others."
As it turned out, Hardinge's dissertation, titled "A Nutritional Study of Vegetarians and Non-Vegetarians," indeed validated a vegetarian diet's nutritional sufficiency as recommended by the National Research Council.
Hardinge, a nutritionist who went on to found the Loma Linda University School of Public Health in 1967, and died in 2010 at the age of 96, is credited for cracking open the door for academic study and validation of a plant-based diet long espoused by the Seventh-day Adventist Church.
While a vegetarian diet has become more widely recognized as a key to good health, studies conducted by epidemiologists at Loma Linda University Health have since built on Hardinge's original research of diet to examine disease in populations and a variety of longevity-enhancing behaviors.
In the ensuing decades, results from several studies have enabled the university to help influence public policy, garner support and tens of millions of dollars in research funding from the National Institutes of Health, and put the city on the international stage for being one of a few international regions where citizens live long, healthy lives.
Gone are the days when Adventist nutrition researchers had to stand on their own and endure ridicule. Loma Linda is America's "longevity oasis," author Dan Buettner wrote in his 2008 book Blue Zones, which told about the health principles of Adventists and their longer, healthier lifespans. "How to live forever…Live like a Seventh-day Adventist" touted Newsweek magazine in 2011. And in 2012, dozens of top media outlets worldwide — from the BBC to The Wall Street Journal to the Sydney Morning Herald — reported findings from the latest Adventist health study in a JAMA Internal Medicine article stating that vegetarians live longer than meat-eaters.
Yet for all the work, the studies largely point back to the basics of the Adventist Church's health principles, which the denomination has promoted since its founding in 1863.
"Our health studies have been able to offer evidence for why the church's guidance on healthful living works," says Gary Fraser, MBChB, PhD, professor of epidemiology at Loma Linda University School of Public Health and director of the ongoing Adventist Health Study.
A native of New Zealand, Fraser became director of the study in 1987 and continues to oversee what is widely recognized as the largest ongoing research of vegetarians, as well as Adventists and healthful living.
"The results we have found continue to validate what Adventists have believed for more than 150 years," Fraser says. "This is a big deal because we are members of a church that has historically emphasized physical health as an important component of spiritual health, and we are in a unique position to find answers and promote those to the public."
Major findings
Fraser says Loma Linda University's studies have discovered that Adventists in California live an average of about seven years longer compared to the public for men and about four and a half years longer for women. For Adventists who are vegetarians, men live nine years longer, and women live six years longer.
The key finding to longevity? Genetics aside, the more a person eats a plant-based diet, the more likely they are to live longer and healthier. Other longevity-related findings from Adventist health studies include staying active, maintaining a healthy body weight, eating a variety of nuts several times a week and engaging in positive faith activities. Also, no smoking, alcohol or other drugs.
The Adventist health studies have confirmed many well-known health factors, but numerous times over the years its researchers discovered links between certain foods and health outcomes that hadn't previously been identified. For instance, eating nuts can significantly lower the risk of heart disease. Eating cooked tomatoes may help reduce the risk of prostate cancer. Eating more food earlier in the day and less later in the day can help reduce one's body mass index. And non-vegetarian Adventists have about a 25-percent higher risk of developing colon cancer than their vegetarian counterparts.
"There have been so many areas of our research that have since been validated by other studies, but we were blazing a trail in many ways," Fraser says.
Results from Adventist health studies conducted at Loma Linda University Health have appeared in nearly 300 peer-reviewed journal articles — from New England Journal of Medicine and American Journal of Epidemiology to Archives of Internal Medicine and American Journal of Clinical Nutrition. Articles have reported on healthy behaviors, statistical approaches, and innovative research methods, such as increasing participation of minorities in widespread health studies. More articles about the Adventist Health Study are on the way, Fraser says.
The research
The first major study of Adventists launched in 1958 and examined some 23,000 people living in California through 1966. It became known as the Adventist Mortality Study, with Frank Lemon, MD, and Richard T. Walden, MD, DVM, chiefly examining mortality as an outcome. The duo started with the primary emphasis of tobacco smoking, and the subjects were used as a control group for an American Cancer Society study that led to the Surgeon General's landmark report on smoking in 1964.
In 1974, Roland Phillips, MD, DrPH, and Jan Kuzma, PhD, were given a grant to start the second Adventist health study, which is now known as Adventist Health Study – 1. It studied 34,000 Adventists in California and lasted through 1998.
The Adventist Health Study – 2 (AHS – 2) began in 2002, designed as a rigorous tracking study of some 92,000 participants across the United States and 4,000 Adventists in Canada. The study included 26,000 African-Americans and immigrants from the Caribbean. The chief goal was to examine the relationship between diet and cancer.
At times, the study has employed more than 50 people on staff, including a team working a call center. Researchers include physicians, epidemiologists, nutritionists, health promotion experts and statisticians.
AHS – 2 is still ongoing and has given researchers a swath of data to offer a comparison among vegetarian Adventists versus their meat-eating counterparts.
Taking into account genetics and psychosocial components, diet continues to be the chief longevity factor, Fraser says, with vegetarians exhibiting an approximately 10 percent lower death rate. This means that at every age after 30, vegetarians experienced only 90 percent of the deaths than non-vegetarians.
Fraser says that Adventists not only live longer, they also live better. Adventists still die of similar causes as the rest of the population; they just die later.
"The kinds of diseases we're delaying are those that are also adversely impacting quality of life," Fraser says.
The next steps
Plant-based diets have exploded in popularity in recent years, and Fraser says Adventists and Loma Linda University Health are in a prime position to continue demonstrating in a bigger way than ever before how diet and lifestyle factors contribute to health and longevity.
"In terms of the science world, our study is well-known, highly regarded and has had an impact," Fraser says. "But even though we've provided a lot, there's still more to come. We need to provide more convincing evidence that goes beyond statistical associations and starts to look at mechanisms — the epigenetics, the microbiome and metabolomics."
Adventist health studies of cancer research have primarily focused on the three high-frequency cancers — breast, colorectal and prostate. Fraser says the next step is to examine medium-frequency cancers, such as lung, melanoma, pancreatic and uterine.
He and the team are exploring the feasibility of a larger biorepository. The current storage facility holds blood and urine samples from 3,000 subjects, and his goal is to be able to hold more than 10,000. The 3,000 have already proven invaluable, Fraser says. Also, AHS – 2 will likely be expanded within a year, including opening enrollment to new subjects, which the team feels will lead to new findings.
"All of us are pleased that we've added to the reputation of the university and the Seventh-day Adventist Church with this work over the years," Fraser says of the team.
"I think we still have a big task ahead of us — to provide even more compelling evidence of cause and effect," he says.