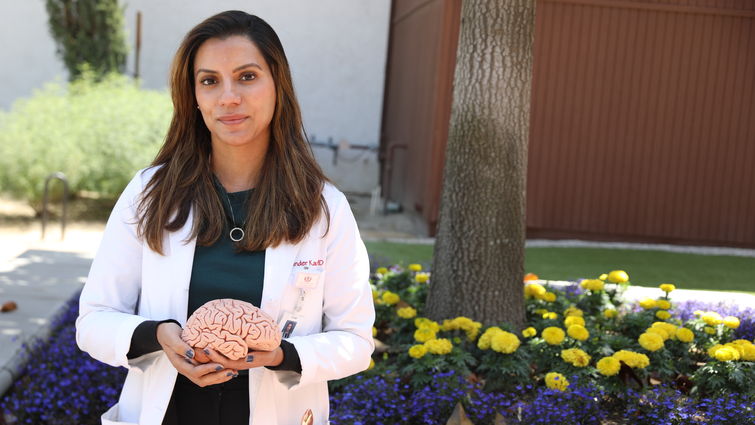 When neuro-oncologist Maninder Kaur, MD, joined Loma Linda University Health (LLUH) in March 2022, she became the first and only neuro-oncologist in the region. As part of LLUH's growing brain tumor program, Kaur offers patients specialized care for brain cancers and tumors.
"LLUH has strong neurosurgical, medical oncology, and radiation oncology programs," Kaur says. "Neuro-oncology was the missing piece to a more robust brain tumor program."
Now, referring physicians and patients in San Bernardino and Riverside have access to a neuro-oncologist close to home. Prior to Kaur's move, a patient would have to travel more than an hour outside of San Bernardino for that specialty. Although she focuses on primary brain tumors, such as astrocytomas, high-grade glioblastomas, and meningiomas, Kaur also treats patients with metastatic brain tumors.  
Along with completing a neuro-oncology fellowship, Kaur also completed additional training in vascular neurology. Training in multiple specialties enables her to better treat patients as a whole person.
"Patients with brain tumors can be very complicated," Kaur says. "I can see the bigger picture and treat other symptoms and complications that are often common with brain tumors, saving patients from seeing many different specialists." 
As the chief of neuro-oncology, Kaur oversees a brain tumor program that's quickly expanding. Two new neurosurgeons will focus exclusively on brain tumors. And although LLUH University Cancer Center offers patients access to the most clinical trials in the region, Kaur hopes to offer even more. "We want to make sure we're offering treatment options beyond the standard of care to give patients the ability to fight the good fight against cancer," she says.
The additions build on an already robust radiation oncology program. LLUH was the first institution in the U.S. to offer proton therapy. Today, the hospital-based proton treatment center is one of only two in California, providing a safer, more precise treatment option to patients with brain tumors. 
Kaur says LLUH's expanding brain tumor program offers patients another important benefit. 
"LLUH is big enough to offer specialized, advanced brain tumor services – not every center does. But we're small enough to provide a personalized touch. Our patients feel like they're being cared for like a person, not their diagnosis," she says. "I get to really connect with patients. I definitely feel like I'm contributing. It makes all the years of training worthwhile."
Click here to learn more about brain tumor services at Loma Linda University Health.