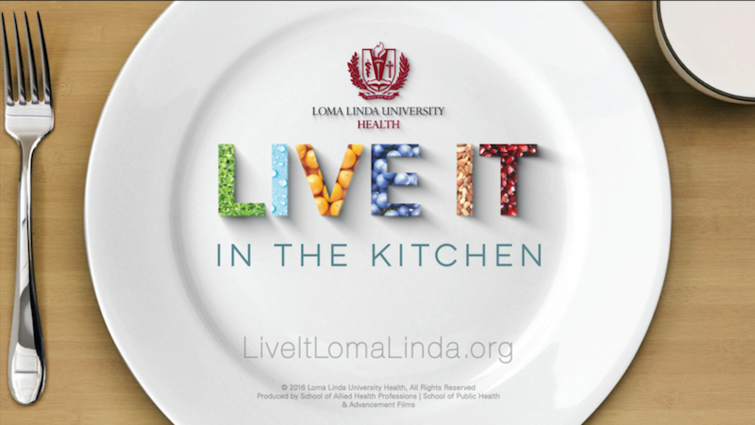 The Schools of Public Health and Allied Health Professions at Loma Linda University are taking a fun, interactive and healthy approach to cooking with a new online cooking show "Live It: In the Kitchen."
The show inspires healthy, wholesome home cooking and demonstrates quick and easy meals that the whole family can enjoy.
"People tend to turn to meals that are quick, and easy to prepare, but ultimately low in nutritional value," said Chef Cory Gheen from Loma Linda University School of Allied Health Professions department of nutrition and dietetics. "'Live It : in the Kitchen' aims to show that great tasting food can be good for your body and easy to prepare."
The series of 14 short episodes has made its debut on liveitlomalinda.org, and every Tuesday an episode will be featured on the Loma Linda University Health Facebook page.
This week's episode is for those with a sweet tooth: dark chocolate pomegranate bark.
Additionally, each episode will have chef tips that relate to the recipe on the website such as how to deseed a pomegranate.
The show and recipes will also be available in Spanish.
Produced by Loma Linda University Health, "Live It: In the Kitchen" is a collaborative effort between Loma Linda University Schools of Allied Health Professions and Public Health as well as Loma Linda University Health advancement films.
The all-vegetarian recipes were collected and adapted for the series by Chef Cory, who is professionally trained and has over 25 years of experience. Chef Cory brings a passion for food to his classroom, and now to anyone who wants to learn. He is raising the bar for quality, nutritionally focused cooking.
See all the recipes on the Live It website now.