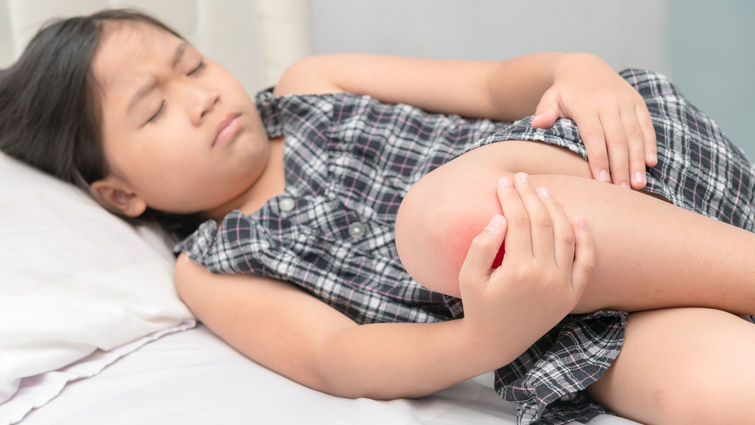 Arthritis is commonly associated with the aging and elderly populations, but according to the American College of Rheumatology, around 300,000 children in the United States have been diagnosed with Juvenile Idiopathic Arthritis (JIA), formerly known as Juvenile Rheumatoid Arthritis. 
During July — Juvenile Arthritis Awareness Month — Wendy De La Pena, MD, a pediatric rheumatologist at Loma Linda University Children's Hospital, wants to provide education on JIA. 
JIA is caused by a combination of genetic factors and exposure to some environmental influences such as infections, De La Pena says. The disease itself is an autoimmune condition where the overactive immune system attacks the joints, causing swelling and inflammation. While multiple types of arthritis can develop in children, De La Pena says JIA is most common. 
De La Pena says many people don't realize that JIA can affect children from infancy through adolescence. "Children with JIA may look completely normal and still be experiencing chronic pain," she says. "The arthritis might manifest itself in something simple, like your child not being able to keep up with their peers."
Symptoms may be chronic and ongoing, or appear in short, flare-up episodes, De La Pena says. Some of these symptoms include:
Swelling, stiffness or painful joints in the feet, ankles, knees, hands, elbows, shoulders and others
Varying levels of limitation in motion of the joint
Inflammation of the eyes
Warmth or redness in a joint
Tiredness 
Decreased appetite 
Slowed growth 
While there is no quick fix for JIA, De La Pena says JIA is often treated by several types of medications over the course of two to three years. "Parents should know that while their child is being treated, pediatric rheumatologists encourage children with JIA to live as normally as possible," she says. "This includes attending school, doing chores, and participating in activities and sports." 
If your child is complaining of chronic joint pain or experiencing the symptoms listed above, doctors recommend making an appointment with a pediatrician. "JIA in children is definitely treatable and manageable," De La Pena says, "I encourage parents to seek treatment for their children from health care professionals who are specifically trained to know about juvenile arthritis. We want your child to get the best care possible." 
Loma Linda University Children's Hospital is proud to provide care for children suffering from JIA. To make an appointment with our Specialty Team Center, call 909-558-2617. Or make an appointment online to talk with your child's doctor. 
While your doctor is your best source of information, visit our website for quick access to more in-depth information about Juvenile Idiopathic Arthritis, including diagnosis, treatment, helping your child cope, and other steps available for moving forward.
Meet Our Providers
Wendy De La Pena
Attending Physician