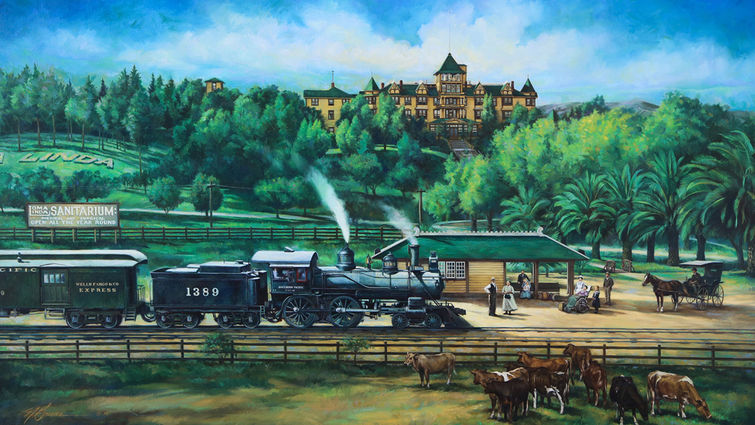 In the olden days of Loma Linda, 110 years ago, a grand staircase swept from the train station up the hill to the original Loma Linda Sanitarium, founded in 1905, now known as Loma Linda University Health.
The staircase traveled between two stately rows of palm trees that still stand today on the north side of the hill, which is now home to Nichol Hall and Lindsay Hall.
Sunday, May 1, President Richard Hart, MD, DrPH, led volunteers from Loma Linda University Health and the community in a half-day work bee to clear the area between the trees and search for remnants of the historical steps. The departments of landscaping and construction provided the necessary tools and gear.
The day began at 7 a.m. in the hilltop gazebo above Lindsay Hall with pancake breakfast provided by the student residence deans.
The hillside came alive as the volunteers cleared the area of vines and underbrush and began to dig. Several artifacts, including a decorative ironwork spout that was part of a fountain, nails that once held the staircase together and a glass bottle stamped with the words "Loma Linda Sanitarium," were unearthed.
The gallery of images tells the story of the 2016 President's Work Bee.
—By Heather Reifsnyder and Nancy Yuen